Construction CRM Software. Built by construction pros with honest pricing.
Keep your customers happy. Tracking everything from leads to invoices in one place.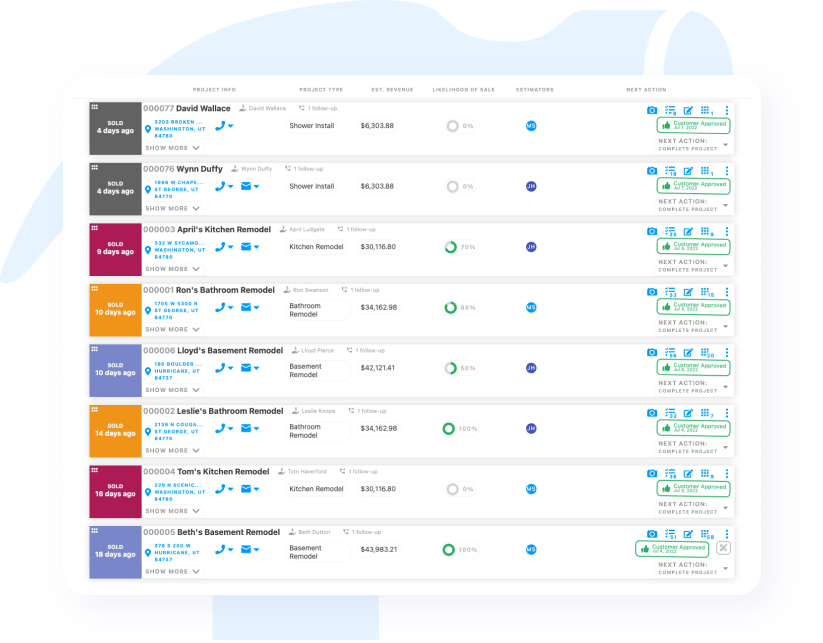 A lot of effort goes into creating a positive relationship with your clients. Even before the project starts, you're connecting and building trust.
This is why it's important to use a CRM created for construction companies by industry pros.
️Track your whole project in one place, from lead through to invoicing
Save time with estimate templates and fast approval
Manage many projects at the same time, including detailed timelines and Gantt views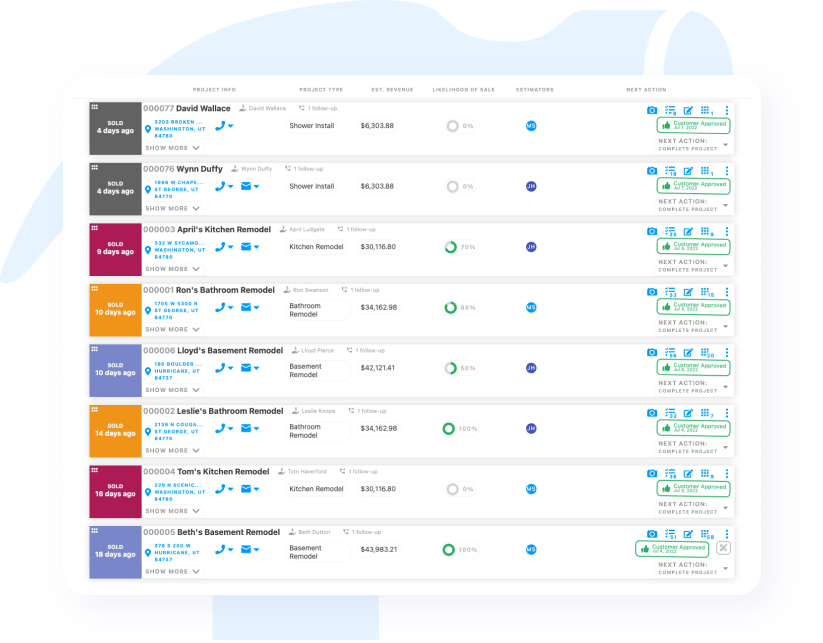 Projul's leading the pack and setting new standards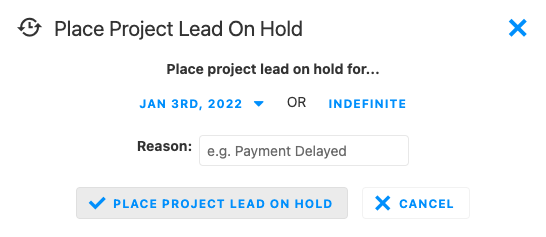 Your sales process should make you money, not waste your time!
View and manage your leads with ease using our sales pipeline. It's built for the construction industry, by experienced pros.
We've been there and done that, so we know how important it is to track the right information.
You can also put prospects 'On Hold', which is great for focusing your sales effort.
Custom built for construction companies to track their pre-sales leads
It's easy to manage hundreds of prospects without feeling overwhelmed
Stay on top of hot leads by scheduling follow-up tasks
Steer clear of payment disputes and delays with estimates and invoicing you can rely on.
Use templates and branding to create professional estimates that impress your clients. You'll keep the momentum going with our fast approval and signature process.
Invoicing is just as simple. From deposit through to final invoice, it's easy to send them to clients. And because of our integrated payment processing, it's even easier for your customer to pay.
Get paid for all your work, including progress payments and change orders
Make life easier for your accountant with our Quickbooks integration
Save time by taking advantage of our estimate templates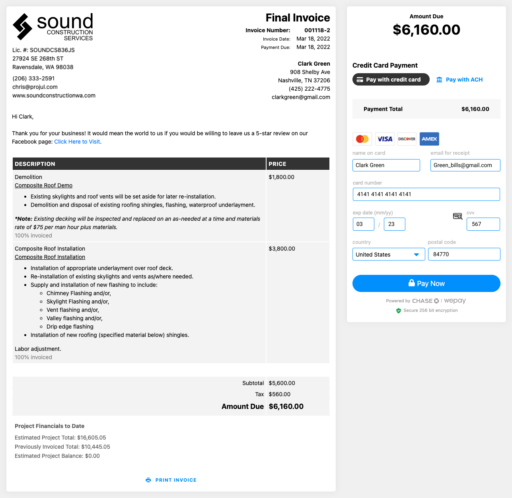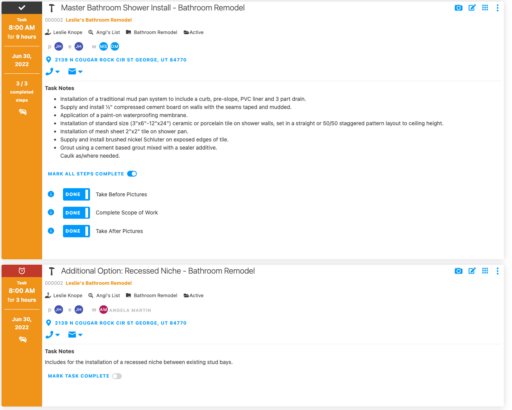 Deliver work with precision by managing tasks across many projects.
Whether you're managing 1 or 100 projects, it's easy to create and schedule tasks. This keeps things running like clockwork.
Once created, it's just as simple to keep track of progress. You can view the project timeline, Gannt schedule, and many other views.
Your field workers can also upload photos and documents to Projul. This means you don't need to worry about external storage, or things getting lost.
Keep everyone in the loop by scheduling tasks & assigning them to workers
Manage projects of all sizes in Projul
️Keep everything safe with our secure photo and document uploads
What our customers are saying
Our happy customers love how Projul helps them do more with less
Supporting your success every step of the way
Projul provides an industry leading premium support package that includes a personalized implementation and analysis of your company's workflows to best fit your company's needs. We are here to support your success!
What is construction CRM software?
CRM stands for 'Customer Relationship Management'. It helps businesses document and manage their prospective and current clients.
Features can vary depending on the supplier. Some common features include lead management, sales forecasting, project management, and contact management.
Construction CRM software offers the same features, but targeting the construction industry. This often means specialist solutions, such as job scheduling and invoicing.
Why should I use customer relationship management software FOR CONSTRUCTION?
The primary benefit of utilizing a CRM for construction is that your client information is in one place. From sales management, through to the single project tasks.
This makes it much easier to manage your construction projects. So you don't need to worry about anything slipping through the cracks.
Which features to look for in the best CRM software for the construction industry?
The features you need for your CRM can vary. The size and structure of your business will make a big difference.
These are a few features that every company will need:
Lead Management & sales pipeline
Task management
Estimates
Invoicing
What makes Projul special?
Projul's industry-focused combination of features makes it the perfect construction company CRM software. We make it easy to keep track of your leads and convert them into customers.
Our customer relationship management combined with project management features save you time. You'll no longer need to switch tools once you've made a sale. This will help you sleep easy, knowing all your information is in the one place.
We're confident we've built the best construction management software on the market.
How can CRM systems help business development?
A CRM software solution offers many key features that can help you with your business processes:
Contract management
Document management
Managing multiple projects
Tracking prospective clients
Storing customer data
With a CRM for construction, you have full visibility of your construction project. And by tracking these things in one place, you can avoid repetitive tasks, and gain a strong competitive advantage.
Do CRM tools allow me to track multiple projects simultaneously?
Absolutely! CRMs are specially designed to hold a wide range of customer information. It's easy to track customer relationships, and identify where customer retention can be improved.
Many will also provide digital tools to keep track of general contractors, industry partners, and your sales funnel. Some will also offer marketing automation to boost customer satisfaction.
How much does it cost to start using a CRM for construction professionals?
Most sales tools, including CRMs, will offer a free trial to new customers. This gives you and your sales team a period to decide whether it's worth it.
To avoid wasting time, though, you should be careful with which tools you try first. Some CRMs aren't focused on construction management, and some are focused entirely on sales teams.
You will also need to decide whether you want to use cloud based software, or desktop. The former being the most popular because of its convenience.
Once you find a construction management CRM you like, it's important that everyone can use it. This means everyone, from sales teams through to project managers, gets a chance to try it out.