Glazier Management Software. Shatter your customer's expectations by delivering industry-leading service!
Built by construction pros with honest pricing.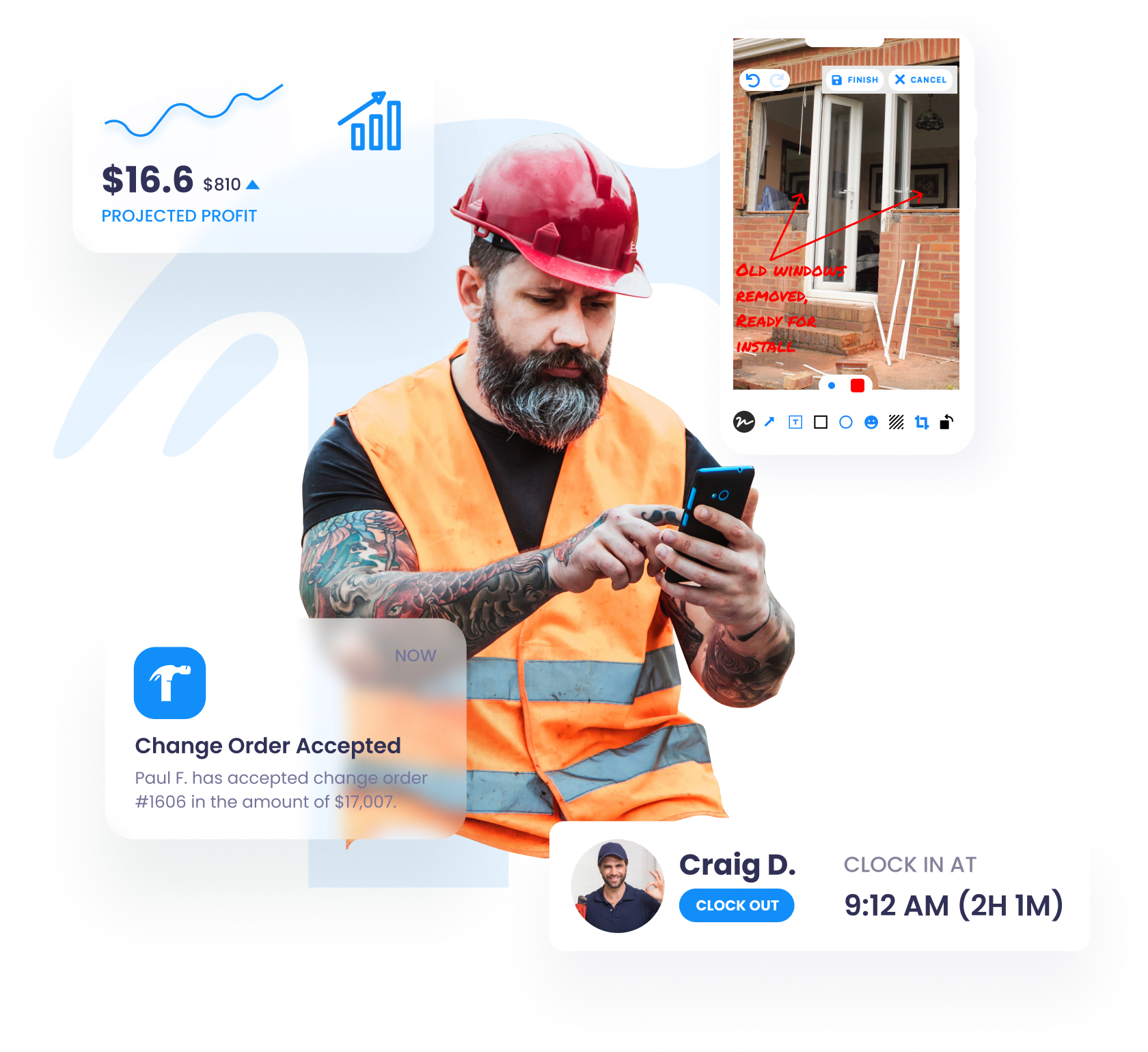 Save time and make your life easier with Projul's comprehensive job management features.
Our app simplifies your processes and provides everything you need in one place to deliver every time.
Our portal makes it easy for your customers to check progress
Create and schedule tasks and deliver projects on time
Get paid quickly and easily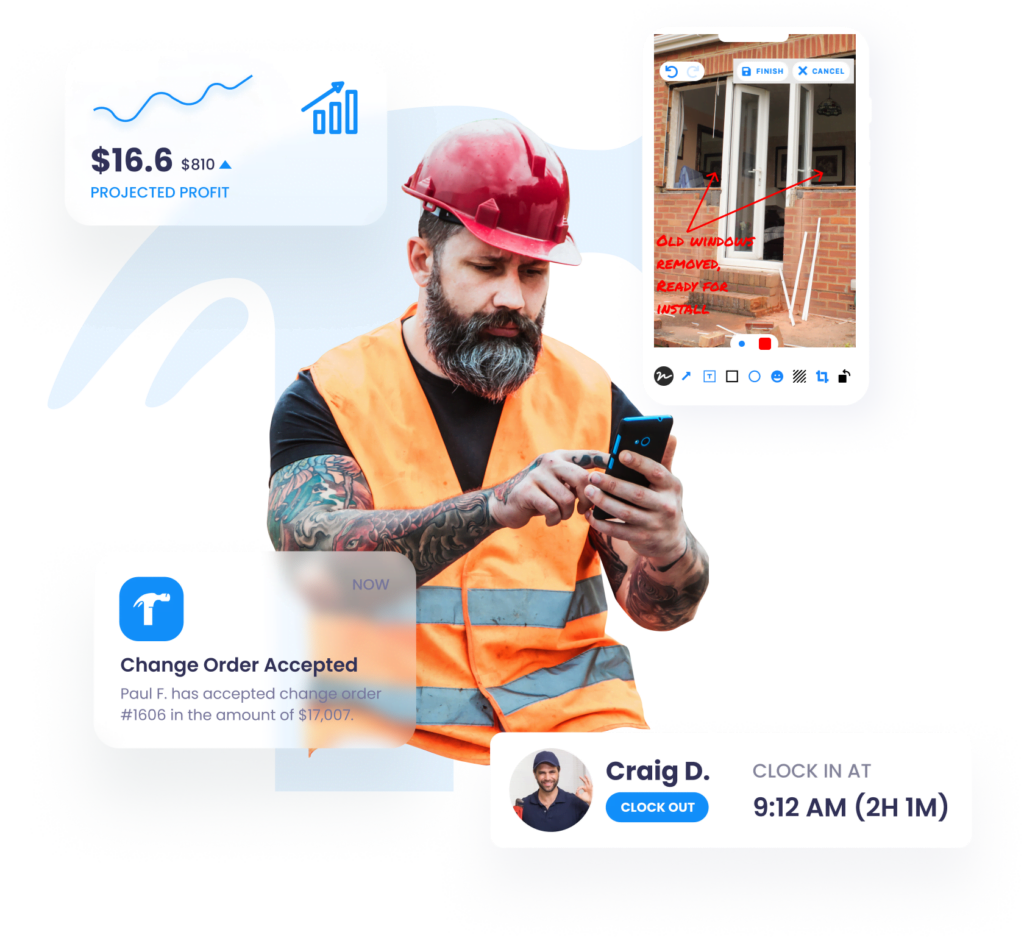 Projul's leading the pack and setting new standards
Keep your leads hot by organizing your lead pipeline and sending estimates that impress!
Our lead pipeline was designed specifically for trades and construction companies. It allows for scheduled follow-ups and makes it easy to group your leads by stage.
Speed up your process with professional estimate templates that can be approved digitally.
You then convert your estimates to tasks, and you're off!
Our lead pipeline is built for you, by experienced trade professionals
Our fast approval process means you can start to work straight away
Never let a lead go cold with automatic reminders
Have a clear view of your tasks and schedule, and deliver on-time
Our drag and drop scheduler makes it easy to create and schedule tasks across all of your projects. You can easily assign locations and workers to tasks and track their progress in real-time.
Your workers can easily view their schedules with the Projul app. So they always know where they need to be and what they need to do.
Your clients can view progress on our customer portal
Our drag-and-drop editor and templates make it easy to create an effective schedule
View real-time updates on the progress of your project and what your team is doing
Invoice at every stage of your project, and always get paid for the work you do
It's simple to send a variety of invoices to your clients, including deposit, progress, change order, and final invoices.
This helps you stay on top of project finances, and ensures you are properly compensated at every step.
Automatic QuickBooks syncing makes life easier for your bookkeeper
Detailed revenue forecasting gives you a clear picture of your future income
Accept payments securely and quickly, directly from your invoice
What our customers are saying
Our happy customers love how Projul helps them do more with less
Supporting your success every step of the way
Projul provides an industry leading premium support package that includes a personalized implementation and analysis of your company's workflows to best fit your company's needs. We are here to support your success!
Management Tips For Drywallers FAQs
What does efficient management mean for Glazier Businesses?
Efficient management for glazier businesses means having the tools and systems in place to effectively manage all aspects of the business, from managing customer satisfaction and job completion to tracking field staff and managing data and projects. This includes using an app to streamline processes, communicate with customers and team members, and send bids and work orders. It also means having the ability to manage multiple branches and locations and having access to relevant and industry-specific reports and data to make informed decisions and drive profitable growth.
Streamlining the process for your glazier businesses means using the right tools and systems to effectively and efficiently manage all aspects of the business. This leads to improved customer satisfaction, increased productivity, and success in the market.
Why should Glazier Businesses use management software?
There are several reasons why glazier businesses should use management software:
Glazier software specifically designed for the glass industry can help businesses streamline their operations and manage their work more efficiently.
Keep up to date with all their jobs and work orders, including the location of the job, the type of glass needed, and the status of the job.
Businesses can easily communicate with their field staff and keep them updated on the status of their jobs.
With management software, businesses can easily access customer and job information, generate reports and track the progress of their jobs.
It can help businesses focus on the things that matter, rather than worrying about paperwork.
Management software can help businesses save money in the long run by reducing paper costs and increasing efficiency.
With management software, businesses can easily communicate with their team, customers, and vendors, improving communication and collaboration.
They can help businesses protect their business by providing secure access to important information and data.
Which features to look for in the best management software?
When looking for the best management software, there are several key features to consider:
Ability to manage multiple jobs: The software should easily manage the status of multiple jobs, including the ability to assign tasks to team members and track progress.
Communication and collaboration tools: The software should have tools for communication and collaboration, such as chat, email, and project management features, to ensure that team members can work effectively together.
Data management and reporting: The software should have strong data management and reporting capabilities to help you analyze key performance metrics, such as revenue, expenses, and profitability.
Industry-specific features: Look for software with features specifically designed for the glass industry, such as the ability to create and track bids, manage glass inventory, and process orders.
Efficient workflow management: The software should streamline and automate key business processes, such as scheduling, invoicing, and customer management, to increase efficiency and productivity.
Support and training resources: It's important to choose a software with a strong support team, and training resources, such as tutorials, videos, and live demos, to ensure that you and your team can get the most out of the software.
Mobile accessibility: With more people working remotely or on the go, it's important to choose a software that is mobile-friendly and accessible from any device.
Upload photos on-site with Projul in just a few clicks.
What makes Projul special?
We've built Projul specifically for trades to help them manage and track their jobs more efficiently. This system allows glass industry professionals to easily manage data related to their jobs, including site visits, photos, and office management and many other services.
One of the unique features of Projul is that it allows you to take on more jobs and grow your business, as it helps you manage your workflow more effectively. Additionally, Projul is a comprehensive system that helps glaziers and business owners easily manage all aspects of their work, from job scheduling to invoicing and everything in between. Overall, Projul is a valuable tool for anyone looking to improve their productivity and grow their business.