Roofing software. Stay on top of your roofing projects, by managing everything in one place. 
Built by construction pros with honest pricing.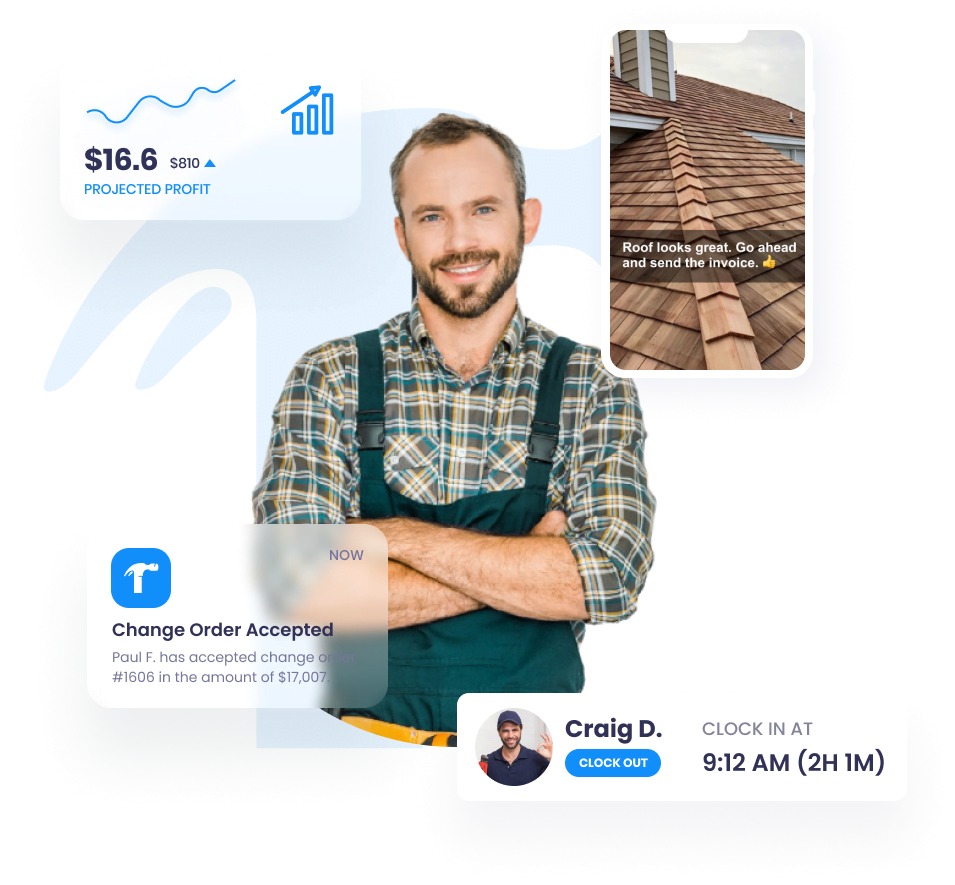 Using roofing software to manage your jobs and stay on top of your business gives you the advantage.
Save time and grow your roofing business with estimates, invoicing, and more!
Land more work with an advanced lead pipeline, and professional estimates
Schedule everything, and deliver projects on time
Get paid quickly and easily, direct from the invoice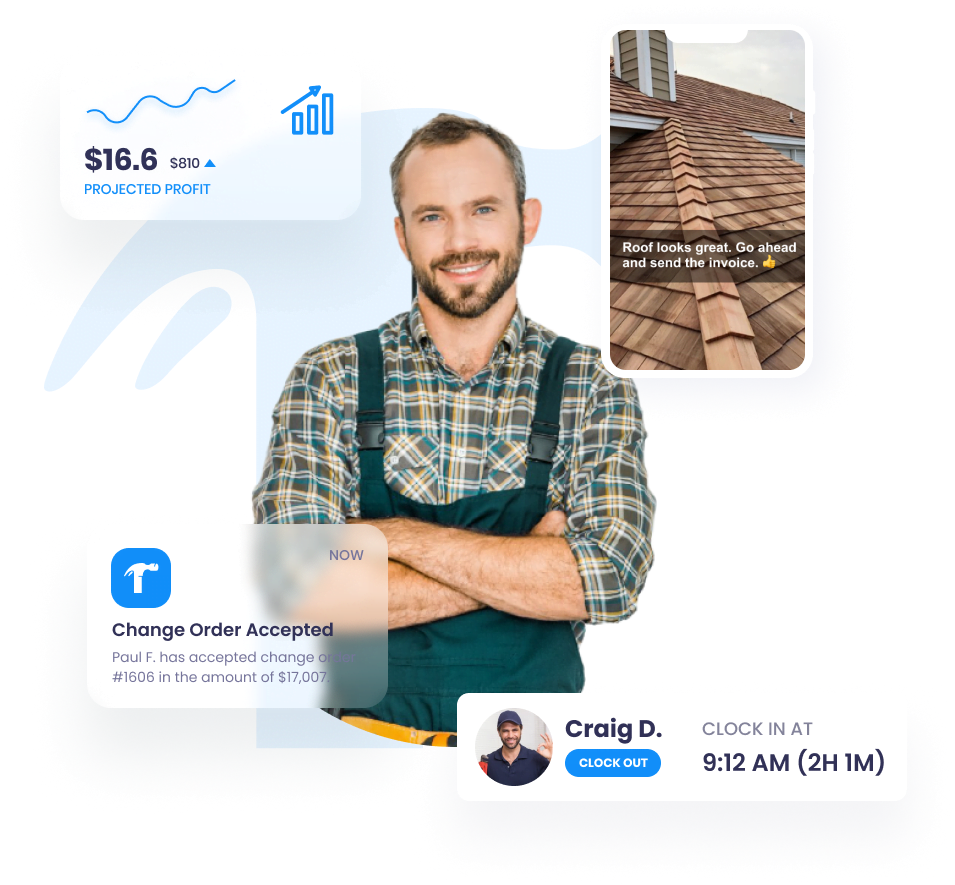 Projul's leading the pack and setting new standards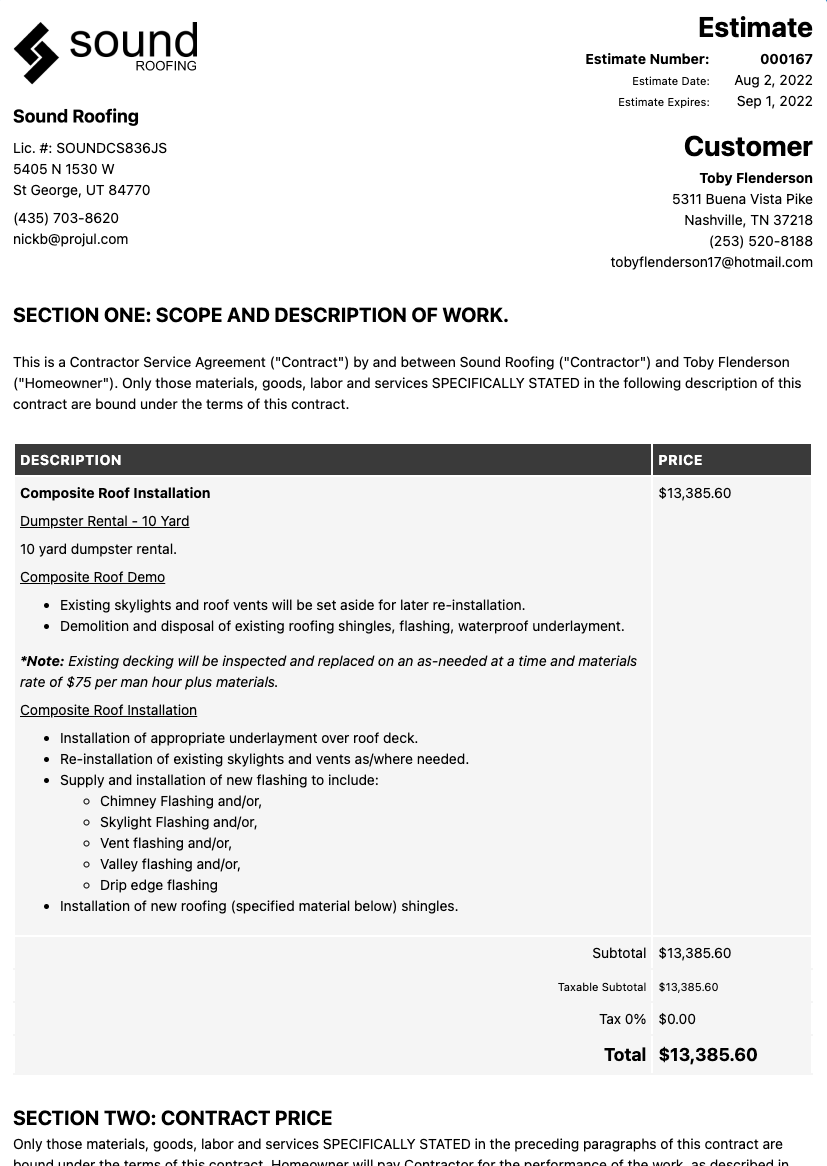 Win work, without the headaches
From canvassing potential customers, to estimating on-site, to approval, it's not always easy to win roofing jobs. With Projul, this whole process becomes so much easier.
On top of the professional lead pipeline, you also have a built-in assemblies calculator. Not only will your estimates look great, they'll also be accurate down to a tile.
Manage all your leads in one place
Get paid directly from your branded invoices
Edit estimates to reflect negotiations
Schedule everything and everyone, and track the progress live
Roofing projects need precision scheduling, which can be difficult. Projul simplifies the process with our drag and drop scheduler.
Create tasks using templates or cloning, and drag them to where you need them. Then view the realtime progress while the roofing project is underway.
Visual scheduler makes the process a breeze
Automatic worker notifications keep everyone up to date
Use templates and cloning to speed up the whole process
You work hard enough. Getting paid should be easy!
Whether it's a deposit or a change order, invoicing should be a straightforward process. Projul does this, and more.
You can also view revenue forecasting, so you know what money's coming in. You can also take payments directly from the invoice, removing friction from the process.
Keep your books up to date by syncing invoices with QuickBooks
Multiple invoice types ensure you get paid for all your roofing work
It's easy for your customers to pay on time, with direct card payments
What our customers are saying
Our happy customers love how Projul helps them do more with less
Supporting your success every step of the way
Projul provides an industry leading premium support package that includes a personalized implementation and analysis of your company's workflows to best fit your company's needs. We are here to support your success!
Software for Roofing Business FAQs
How do you keep track of roofing contractors?
The most effective way to keep track of roofing contractors is to use a specialized roofing software like Projul.
It's important to see all the project information in one place, so you can make informed decisions quickly. Whether you're on the job site, or in the office.
Why use roofing business management software?
Business management software is perfect for roofing businesses, because it assists them in key parts of the business. From estimates to invoicing, these tools can make your life much easier.
You get full visibility of tasks, schedules, lead pipeline, etc., so you don't need to chase workers for updates.
Which features to look for in the best software for companies?
The features you need depend on the size and structure of your company. These are the features most roofing software will offer:
Customer management
Lead pipeline
Estimates
Scheduling
Invoicing
Change orders
What makes Projul special?
We built Projul using our extensive experience in the construction industry. We understand the challenges roofers and other contractors face every day and want to help you grow your business.
Using this experience, we've created the tool we wish existed when we did what you do.
We offer both cloud based software (accessible through your browser), as well as a mobile app. So you can access your customers' information, and manage your projects, wherever you are.
We set out to create the best roofing software, and we're confident we've done that.
What are the benefits of using a roofing app for your business management?
There are many benefits and reasons why roofing companies should use roofing software:
Create change orders on the go with our roofing app, available on iPhone and Android phones
Schedule all your roofing business tasks, and track progress with ease
Use real time messaging to save time and stay up to date with your roofing contractor
Manage more customers, more sales, and grow your business
Track roofing jobs with our employee time tracking. Our software uses geo fencing to help you keep track of your roofers
Streamline the sales process and up the customer satisfaction with e signature integration in our software
Make room for more jobs with effortless time saving templates tailored for your roofing business
Streamline your sales process with lead management and sales pipeline.