Construction Invoicing Software. Invoice fast. Get paid.
Built by construction pros with honest pricing.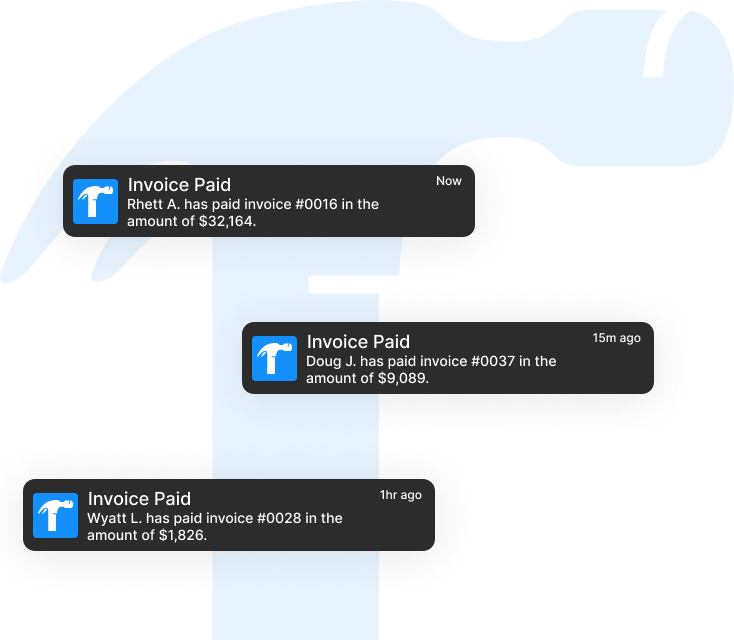 You're not a charity, so getting paid quickly and securely is a big deal. We get it, so we've designed Projul to make invoicing as easy and effective as possible.
You can create the invoices you need, take direct payments, and view aging reports. So you always know what needs chasing.
Create invoices quickly, at any stage of the project
Make life easy for your accountant by syncing with QuickBooks
Get paid faster by accepting card payments straight from the invoice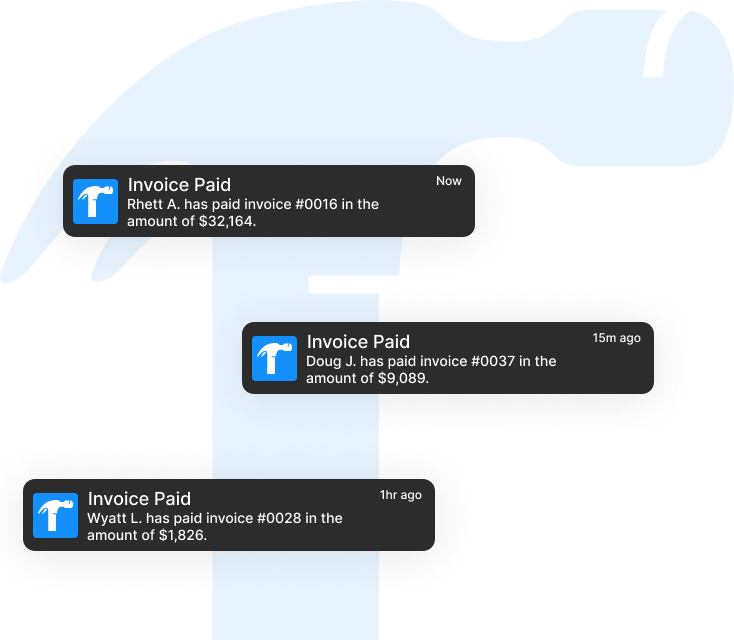 Projul's leading the pack and setting new standards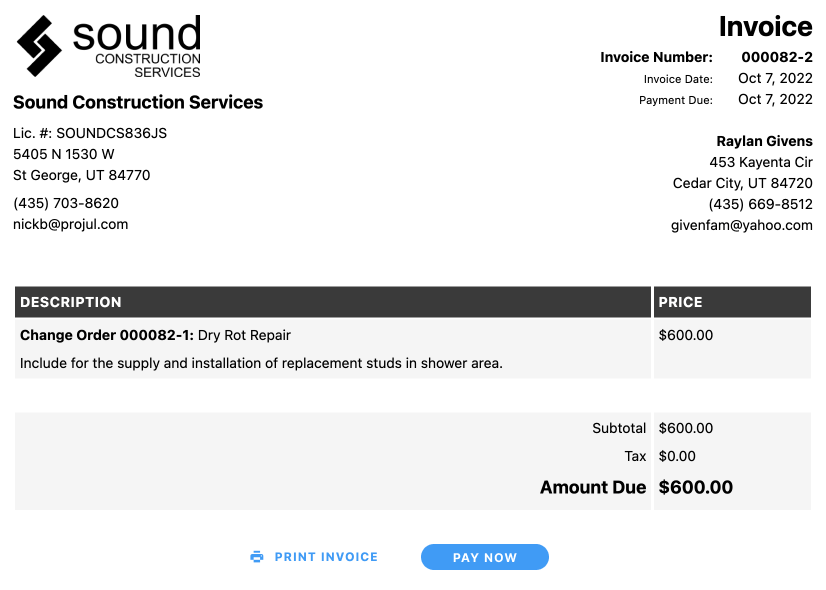 Copy and pasting line items? You've got more important things to do!
Create your invoices using an estimate or change order. Automatically pulling in all the important information. It saves you time, and ensures nothing is missed.
You can do this directly from the documents themselves, or from the shortcut on the dashboard.
Create invoices from estimates AND change orders
Automatically add line items and rates
It only takes a few seconds
From deposit through to final invoice, we've got you covered.
With our experience in construction, we know projects aren't all the same. It's important to reflect this in your invoice management too.
Whatever your project looks like, you can send the right invoice, and get paid the way you want.
Deposit
Progress
Final
Percentage-based
Change order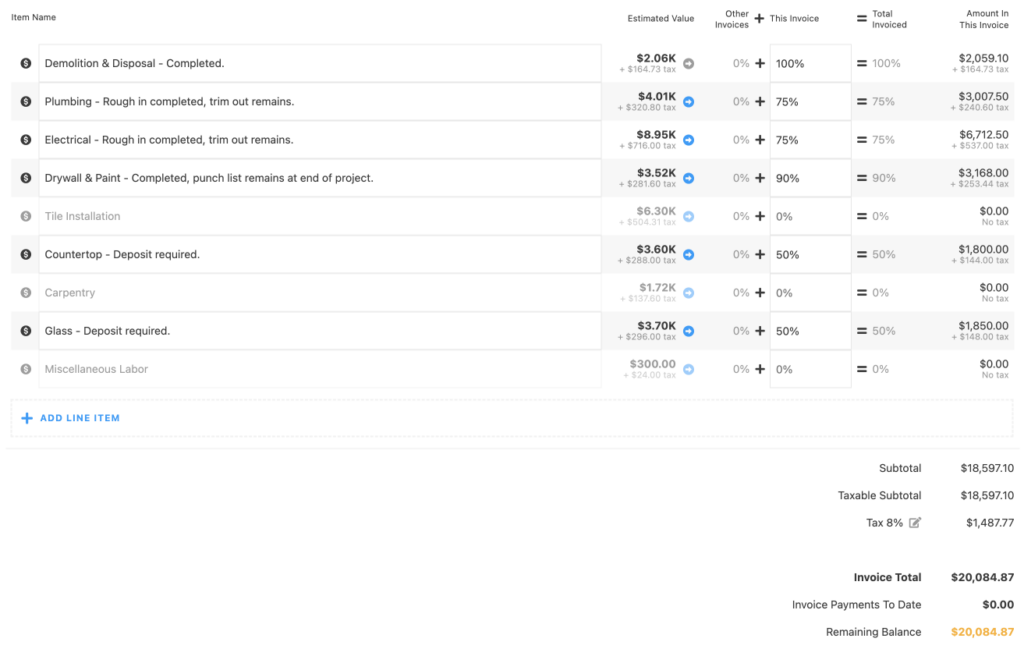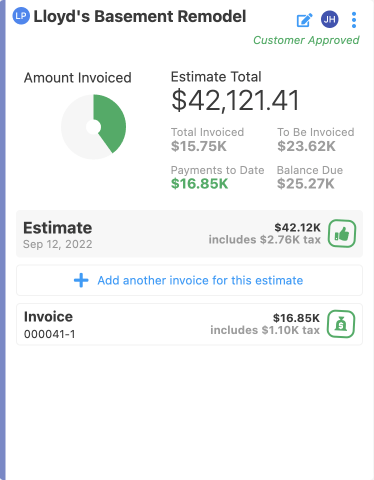 Get a 360° view of your active invoices, using the overview dashboard
Keeping tabs on all your invoices would take a while, if it wasn't for our invoice and estimate dashboard.
View all the key information at a glance. Easily visualize the progress of every project, and every invoice.
Stay on top of every invoice and estimate

Quickly check the progress using visualizations 

Filter and sort the invoice cards to suit your needs
What our customers are saying
Our happy customers love how Projul helps them do more with less
Supporting your success every step of the way
Projul provides an industry leading premium support package that includes a personalized implementation and analysis of your company's workflows to best fit your company's needs. We are here to support your success!
Construction Invoicing FAQs
What is invoice management software?
Invoice management software is a tool that helps you create, monitor, and send invoices for construction projects in just a few clicks.
Sometimes these will be standalone apps, or built into a larger construction management tool.
It's important that every contracting business carefully manages their invoices. These tools help achieve this.
Why should and contracting business use invoice management software?
As with any industry, it's vital to use accurate data on invoices, and get paid faster. Invoicing software helps you do this with templates and reporting. It also provides integrations with payment providers for faster payment.
This mitigates a lot of risk, and allows you to easily monitor and chase invoices where needed.
The reporting also helps you provide more accurate estimates, and for small business owners, this can make a huge difference.
Which features to look for in the best invoice management software?
Most construction invoicing tools look similar on the surface, but it's important to evaluate the features. Every general contracting business is different, but certain features apply to most:
Invoice management
Project management
Reporting tools
Wide variety of invoice types
Pay online direct through invoice
Integration with bookkeeping tools (such as QuickBooks Online)
Cash flow projections
What makes Projul special?
We designed Projul using our extensive experience in construction. We know the aches and pains that come with invoice management, and are determined to make it as easy as possible.
Our team always seeks feedback, and continuously aims to improve our invoice management. We are committed to meeting the evolving needs of our customers.
Should general contractors use invoicing software?
If you're a general contractor, it's vital that you use an invoice management tool. The nature of your business means responding quickly, and these tools give you the essential features to do this.
General contractors would also benefit from finding a tool that covers more than just invoicing. By using a tool like Projul, and using all the features, they can deliver better work and save hours.