Drywall Contractor Software. Make sure your customers are happy when the dust settles. 
Built by construction pros with honest pricing.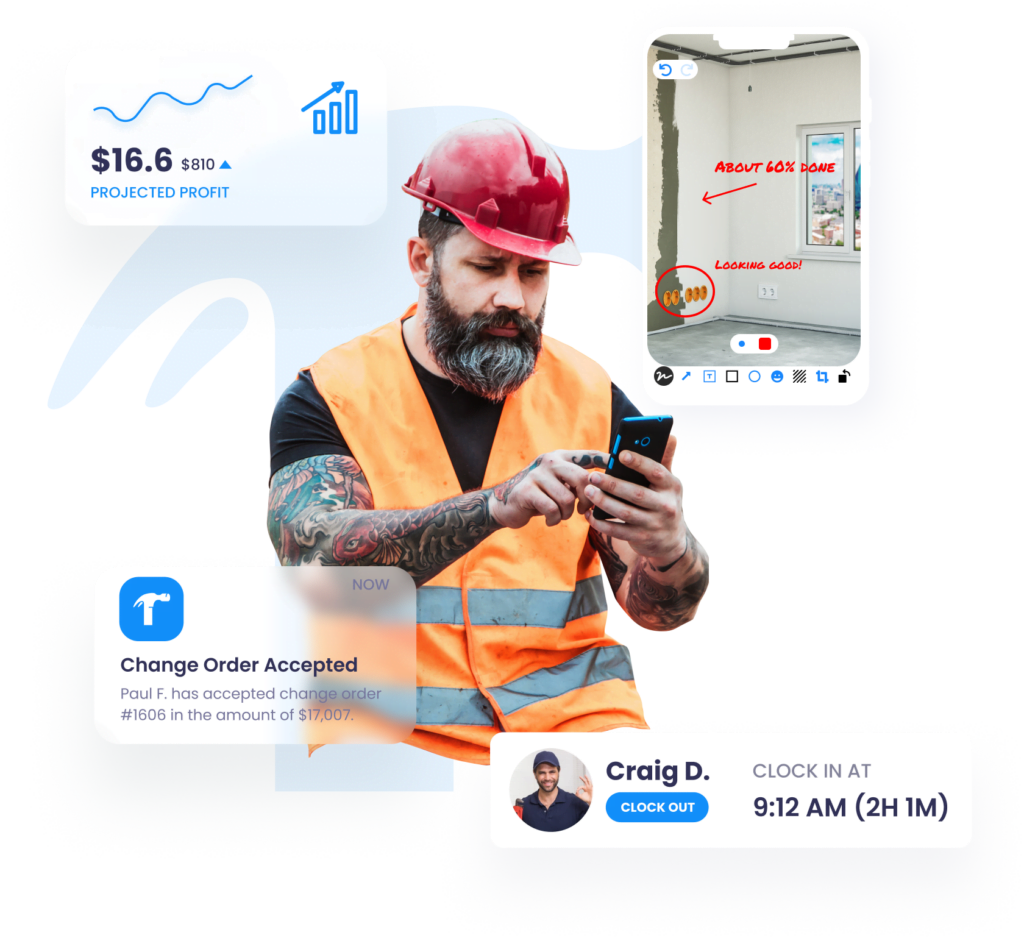 From tracking leads to managing subcontractors, you've got a lot on your plate!
Projul lightens the load by bringing everything into one tool, and simplifying your processes.
Provide accurate estimates with our assemblies calculator
Deliver on time with streamlined scheduling and communications
Keep the client up to date with our customer portal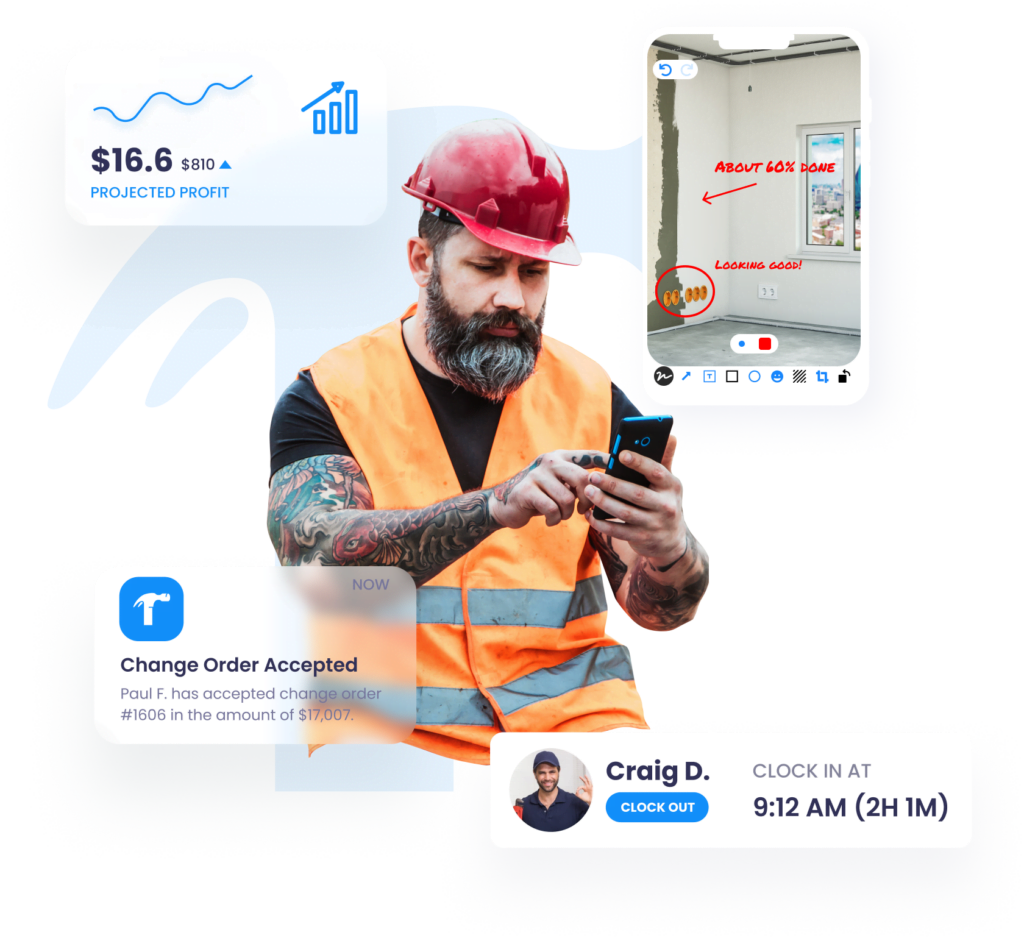 Projul's leading the pack and setting new standards
Make a great first impression with professional proposals and accurate estimates
Projul's proposal templates and efficient lead pipeline allow quick and easy customer approval.
Our assemblies calculator takes the headache out of estimates, so you can estimate with confidence!
Land more clients with our industry-specific lead pipeline
Easily send branded estimates for digital approval
Stay proactive by scheduling follow-ups to keep your leads engaged
Quick task creation with templates and cloning means you can schedule your project in minutes
Your team and subcontractors will know where they need to be, and when they need to be there.
Track before and after pictures with our photo management feature
Keep a close eye on the budget with accurate time tracking via the mobile app
Your customers always know what's going on through our customer portal
Simplify the payment process, and get paid faster!
It's not just doing the work that should be simpler. Getting paid should be fast and easy too.
Accept direct payments from your invoices, wherever in the project you are.
Sending change orders and invoices to clients is a fast and simple process.
Rest assured knowing your payments are secure
Streamline your bookkeeping by syncing with QuickBooks
What our customers are saying
Our happy customers love how Projul helps them do more with less
Supporting your success every step of the way
Projul provides an industry leading premium support package that includes a personalized implementation and analysis of your company's workflows to best fit your company's needs. We are here to support your success!
Management Tips For Drywallers FAQs
What does efficient management mean for Drywallers?
Efficient management is important for drywallers, as it can help them streamline their operations and improve their productivity. This can be achieved through the use of drywallers management tools. They help drywall contractors and business owners manage their projects, invoices, and other important tasks in a more organized and efficient manner.
Why should Drywallers use management applications?
Drywall contractors should use management tools to streamline their business operations and avoid the pitfalls of error-prone manual systems. With management software, they can easily manage their jobs, customers, estimates, and payments in one place.
Additionally, mobile apps can allow them to stay organized and access important information on-the-go. This can help them stay competitive in the market by providing accurate and timely estimates and invoices, and efficiently managing their workload and resources.
Management apps can help drywall contractors save time, reduce errors, and improve productivity in their painting business.
Which features to look for in the best management tool?
When looking for the best management tool, it's important to consider the following features:
Mobile app accessibility: This allows you to manage your business from anywhere, at any time.
Live updates: This feature allows you to see the status of your jobs, projects, and payments in real time.
Estimating and invoicing: Look for a software that can help you create accurate estimates and invoices quickly and easily.
Project management: This will help you manage your projects, assign tasks to team members, and track progress.
Customer management: Consider a software that allows you to manage your customer relationships and communications, including tracking interactions and storing important documents.
Document management: Look for a software that allows you to store and organize important documents related to your business, such as contracts and invoices.
Payment tracking: It's important to have a system in place for tracking payments from customers, and a management software with this feature can be helpful.
Crew and contractor management: If you work with contractors or have multiple crews, look for software that can help you manage and track their progress.
What makes Projul special?
Projul is a special drywallers management software because it offers a range of features designed specifically for drywall contractors and drywall business owners. These features include real-time project tracking, estimating and invoicing tools, and the ability to manage and schedule crew members. Projul also offers integration with accounting software and the ability to accept payments directly through the platform.