Carpenter Business Software. Saw your way to success, from proposal to payment. 
Built by construction pros with honest pricing.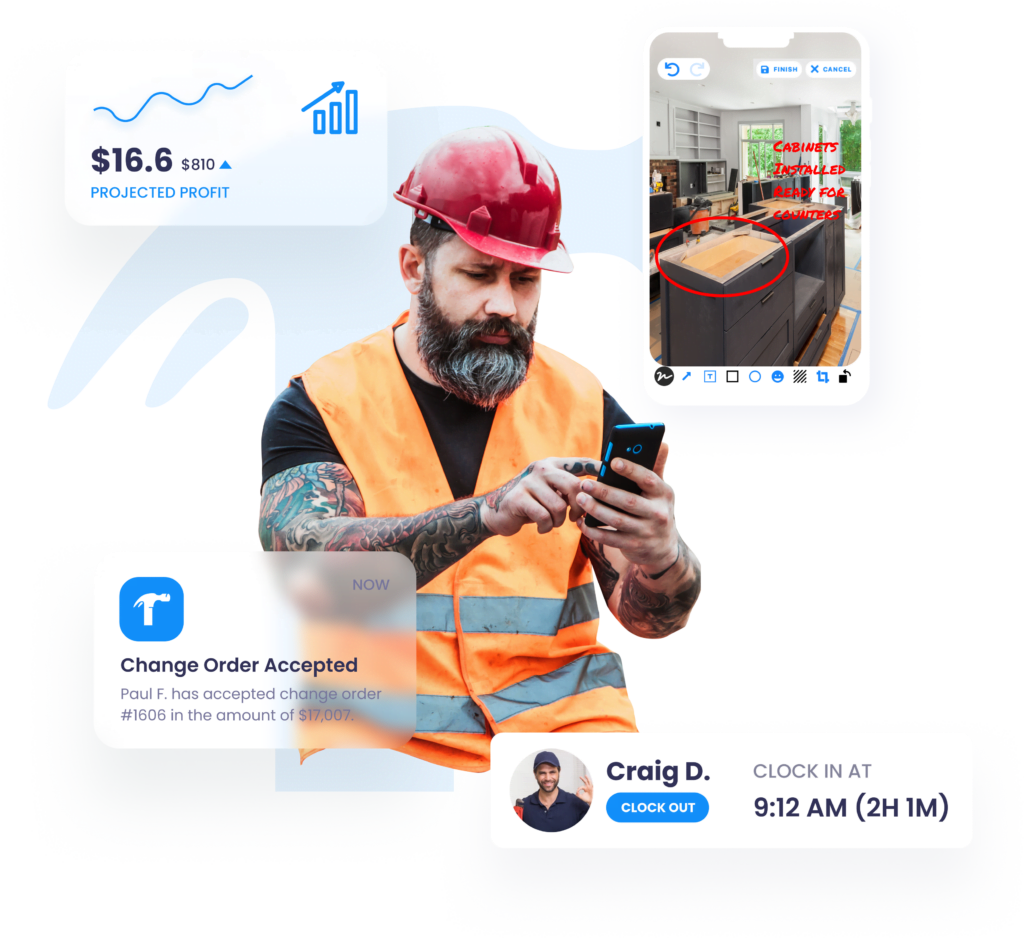 You've spent years mastering your craft, so you shouldn't be spending all your time organizing your projects.
Projul makes this easy by simplifying your processes and giving you everything you need in one place.
Keep your customers up-to-date with a customer portal
Quickly create accurate estimates with our assemblies calculator
Streamline payments with professional invoicing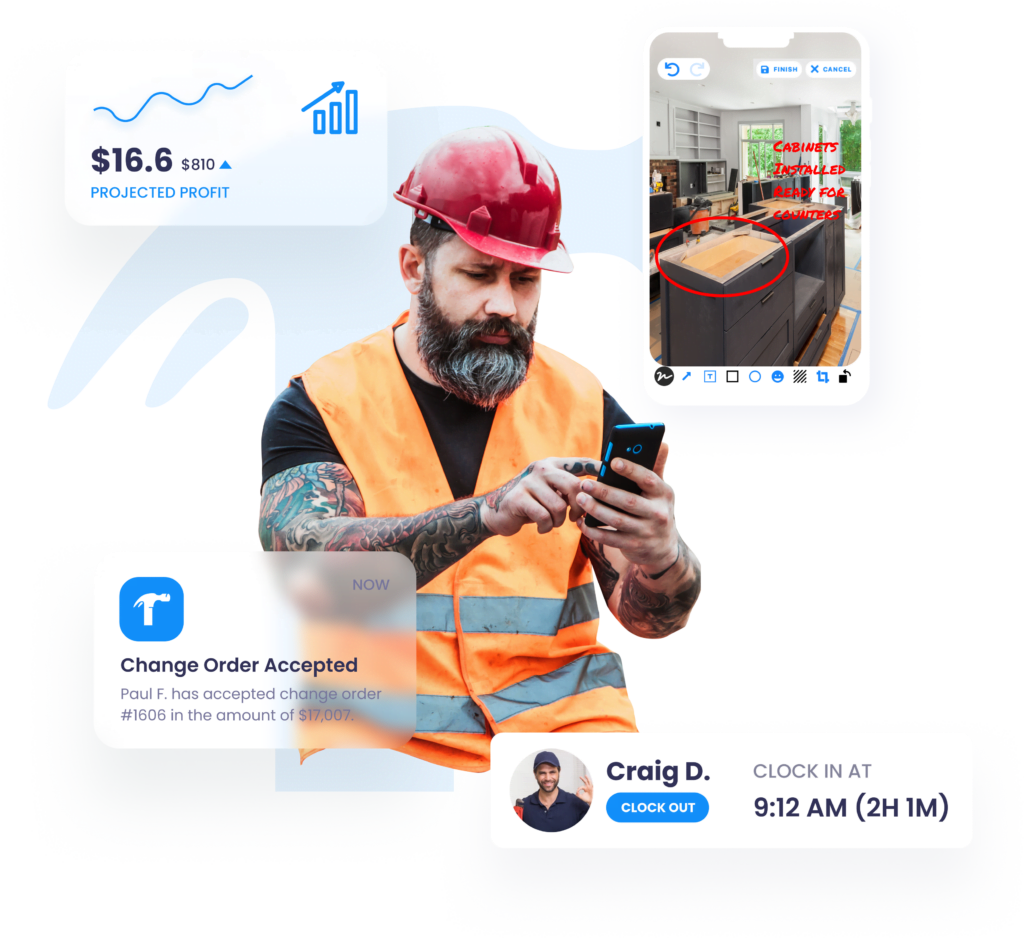 Projul's leading the pack and setting new standards
Grow your business with comprehensive lead tracking and professional estimates
Your sales pipeline is the lifeblood of your business, so it's crucial to keep leads flowing.
With our assemblies calculator and templates, it takes no time to create and send effective and accurate proposals.
Save time and boost efficiency with our built-in assemblies calculator
Stay organized and never let a lead go cold with our built-in follow-up.
Send polished and branded estimates for quick approval
Projects succeed when everyone is on the same page
Projul's advanced task management and scheduling ensures your team knows where they need to be, and what they should be doing.
Paired with our customer portal, you're all on the same page, and everyone is happy!
Keep your clients in the loop at every step with our customer portal
Effortlessly build and manage your schedule
Save time with templates and cloning for quick task creation
Easy to invoice, even easier to get paid!
Let's be honest, getting paid is what it's all about. It's not always a simple process. But with Projul, it is!
We've made it as simple as possible to send invoices at any stage of your project. And we've made it even simpler for your clients to pay.
Send various types of invoices, from deposit to final payment
Easily accept card payments from your invoices
Use our QuickBooks integration to eliminate dual entry in your accounting process
What our customers are saying
Our happy customers love how Projul helps them do more with less
Supporting your success every step of the way
Projul provides an industry leading premium support package that includes a personalized implementation and analysis of your company's workflows to best fit your company's needs. We are here to support your success!
Management Tips For Carpenter Businesses FAQs
What does efficient management mean for Carpenter Businesses?
Efficient management is crucial for carpenter businesses, as it can help them streamline their operations and improve their productivity. This can be achieved through the use of carpenter business software, which can help carpenter contractors and carpentry business owners manage their jobs, invoices, and other important tasks in a more organized and efficient manner. Just a few clicks with the right carpenter software can lead to a successful carpentry business by accurately invoicing customers and creating estimates that can be managed and tracked with ease.
Carpentry business software with key features such as job management, invoicing, and scheduling can be accessed on Android and iOS devices. This helps carpenter businesses save time by speeding up their processes. Professional looking quotes and online takeoffs can be created quickly and easily, leading to faster payment from customers and more revenue for the business. In addition, carpenter software that helps manage and track job details, schedules, and estimates can reduce the risk of error and wasted time.
Proper management of a carpentry business can also involve keeping customers happy and maintaining a professional image. This can be achieved through beautifully designed, detailed quotes and a single platform for managing all aspects of the business. This includes purchase orders, invoices, and estimates. Having access to all these tools in a single place can help carpenters and their team focus on their carpentry projects and clients, rather than wasting time on administrative tasks.
Why should Carpenters use carpenter business software?
Carpenter businesses can use management software to help with job management, business software, managing schedules, tracking jobs, creating more jobs, and creating simple invoices. This software can also help carpenter businesses make professional quotes, get paid faster, and keep track of customers. In addition, carpenter businesses can use this software to manage their carpenter jobs, estimate materials and costs, and access features like line items and purchase orders.
It can be used by carpenters, carpenter contractors, and other professionals in the carpentry industry to streamline their work and increase efficiency in the office. It can also provide full support for services and help create estimates for services and materials. Carpenter business software can help carpenter businesses save time, money, and improve their service offerings.
Which features to look for in the best carpenter business software?
When looking for the best management software, some important features include:
Track and manage carpentry jobs, including scheduling, billing, and invoicing.
Estimating capabilities to accurately calculate costs and materials for projects.
Create and access important documents, such as contracts and invoices.
Save time and streamline business processes, such as project management and communication.
Track and manage finances, including revenue, expenses, and profits.
Features to help with business planning and forecasting, such as project tracking and resource management.
Easy access and integration with other software or tools, such as accounting software
Simple and user-friendly interface to make it easy to use and navigate.
Customization options to tailor the software to the specific needs of the carpentry business.
What makes Projul special?
Using our extensive experience in the construction industry, Projul is a tool specifically designed to help trades. It helps track jobs, create estimates, save time, and manage their business more efficiently. It includes features such as final invoicing, materials tracking, and simple, user-friendly software that can be used by carpenters, contractors, and businesses of all sizes. Projul is also designed to help carpenters and contractors easily connect with potential clients and take on more carpentry jobs, making it a valuable tool for growing a successful carpentry business. Overall, the combination of these features and the focus on helping carpentry businesses succeed sets Projul apart from other business software options.