Construction Scheduling Software. Built by construction pros with honest pricing.
Achieve your goals by keeping your projects on schedule.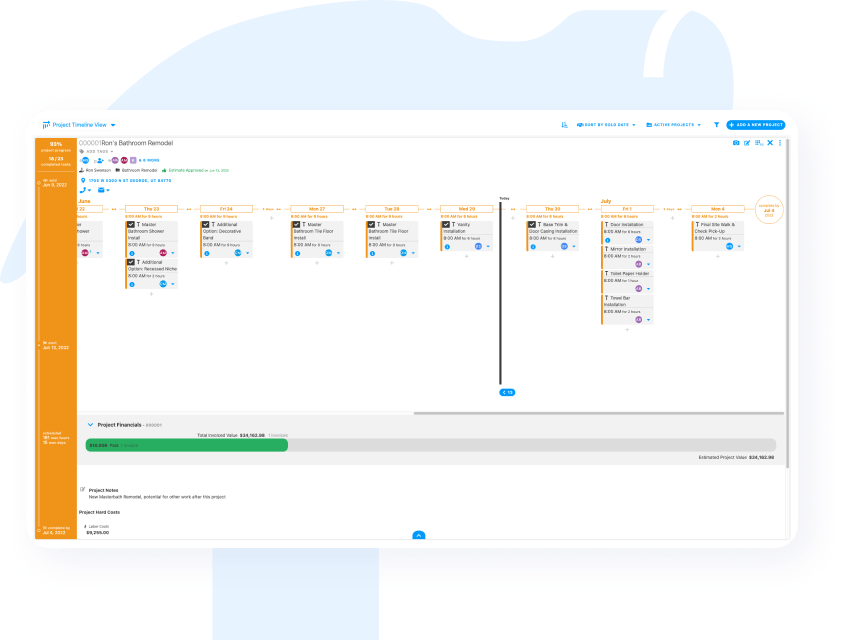 There are many moving parts in a construction project. Because of this, it's not always easy to keep everything on schedule.
Projul helps you stay on track by giving you the tools to manage your tasks, and schedule your work with ease.
You get 7 different schedule ways to view your construction project. And your field workers can use the mobile app to keep up-to-date.
Managing and scheduling tasks is quick and simple
Adjust your schedule on the fly, so you're always up to date
Mobile app makes it easy for your team to see their schedule, and log their time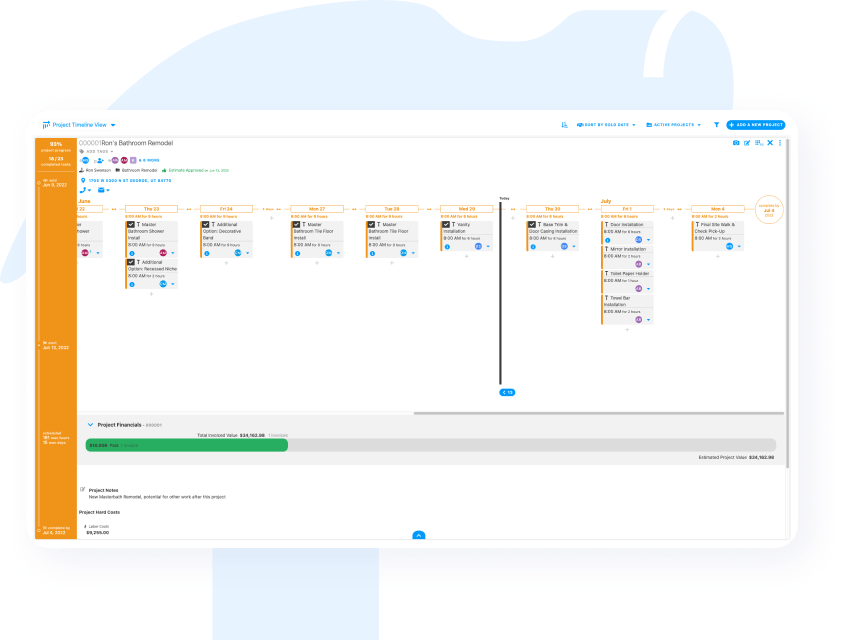 Projul's leading the pack and setting new standards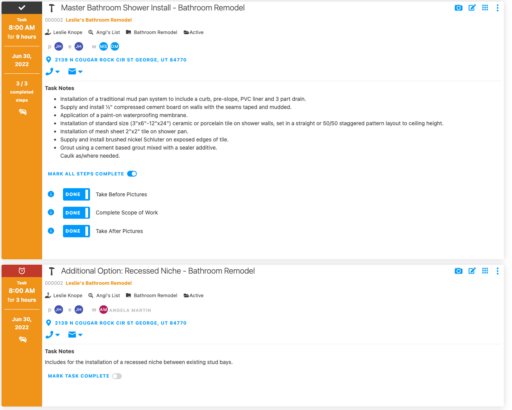 Stay in complete control of your project management by creating and assigning tasks
Convert your estimates into tasks to get started quickly, and create daily task lists. This way, everyone knows what they need to work on.
You can add locations to tasks for better clarity, and you can see real-time progress reports. This provides a clear picture of how your team is performing.
Our project management features make construction management simple for you and your team.
Complete transparency across the projects with real-time progress
️Quick and easy to create tasks for your field workers
You're creating your tasks in the same place you manage your construction schedule
It's easy to turn your list of tasks into a schedule that works for everyone
Our drag and drop scheduler makes it quick to build out your project schedule. You can also use schedule templates and cloning to get up and running in seconds.
It's simple to view your schedule with 7 different schedule views. And advanced filtering lets you look at only the information you need.
Keep your team on schedule with automatic notifications
Save time with the drag and drop schedule builder
Identify setbacks and patterns with advanced schedule views and filtering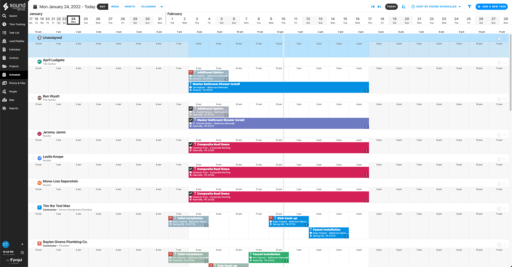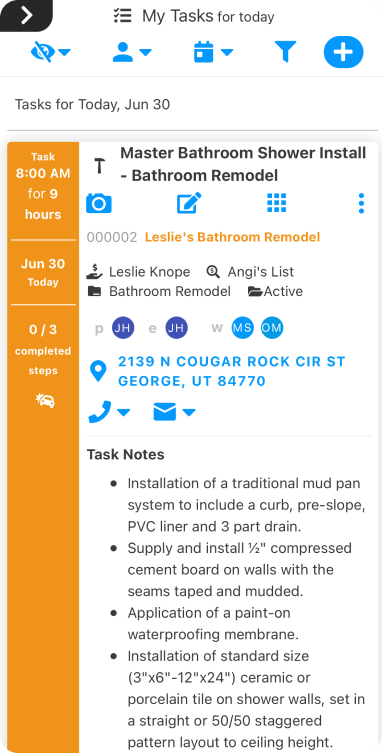 Stay connected with your field workers using the Projul mobile app
We designed our mobile app for construction workers to stay organized. They can see their tasks, upload photos and documents, and view their schedule.
They can also log their time from the site, meaning your data is always up-to-date.
Your team can see their tasks and schedule wherever they are
Avoid losing valuable information by uploading photos and documents
Available on iOS and Android
What our customers are saying
Our happy customers love how Projul helps them do more with less
Supporting your success every step of the way
Projul provides an industry leading premium support package that includes a personalized implementation and analysis of your company's workflows to best fit your company's needs. We are here to support your success!
Construction Scheduling Software FAQs
What is construction scheduling software?
Construction scheduling software helps you define and schedule your construction project.
They often give you many ways to view your construction project schedule. They also allow you to assign tasks to workers to make it easier to plan and forecast.
Some construction scheduling software also covers construction project management and sales pipeline features. This can be useful, as it covers the whole project life-cycle.
Why should I use construction scheduling software?
You should use construction scheduling software because it makes scheduling easy. It helps you through the scheduling process itself. Then both management and field workers can access the final schedule.
This is vital, because everyone will be on the same page. It also means the team isn't dependent on one person to manage the construction schedule.
Which features to look for in the best construction scheduling software?
The features you need will change depending on the size and structure of your business. But there are a few features that every construction scheduling software should offer:
Construction scheduling
Project management tools
Various construction schedule views
Realtime progress reporting
Calendar view
It's important to find the best app to help you manage your construction project schedule. There are many construction project management tools available. So it's important to take your time to compare them.
What makes Projul special?
We're industry pros, and we created Projul based on our many years in construction. We know exactly what companies need in their construction project scheduling software.
We understand the importance of effective scheduling and reliable resource management. We also provide a construction scheduling app for field workers to see their project schedule. Your project team can also log their time from the job site, using the app.
This all makes construction scheduling a much simpler process. And we're proud to offer the best construction scheduling software on the market.
Can I manage my entire project with construction scheduling software?
You can do everything using construction project scheduling software. From planning your construction project schedules, to creating and assigning project tasks.
You can also view your construction project schedule in many ways. Manage your project time line with Gantt charts, and use the calendar view to plan your week.
Construction companies can also store relevant documents and develop their project plan. Keeping key information about trade partners. The calendar view and easy crew scheduling make it easy to calculate critical path.
Why is project scheduling important?
When you're construction planning, there is a lot you need to do. You likely have a regular team, a specialty contractor or two, and trade partners to think about.
This is why construction project schedules are so important. View construction project schedules, while calculating critical path and managing project tasks.
Scheduling software can help with this. It provides easy crew scheduling, detailed construction planning. These detailed views help you stay up to date.
The calendar view, especially, makes it easy to ensure your team is in the right place at the right time. Or making sure you're not paying for that specialty contractor longer than you need.