Management Software for Deck Builders. Deliver professional projects that have your clients walking on sunshine!
Built by construction pros with honest pricing.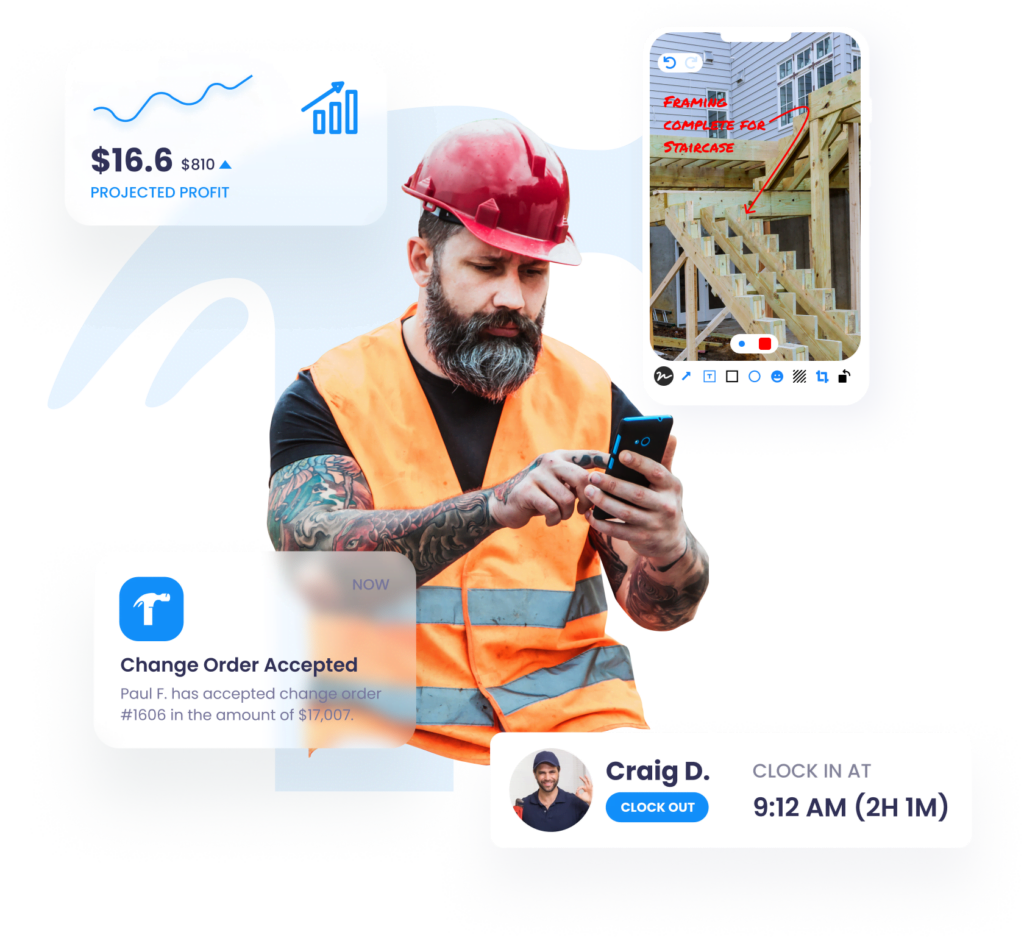 Deck builders have a lot to manage without having to manually do everything themselves.
Projul helps you send competitive bids, easily assign jobs, and maintain high profit margins, all from one convenient tool!
Impress clients with our customer portal
Accurately estimate project costs with our easy-to-use assemblies calculator
Send professional invoices and get paid quickly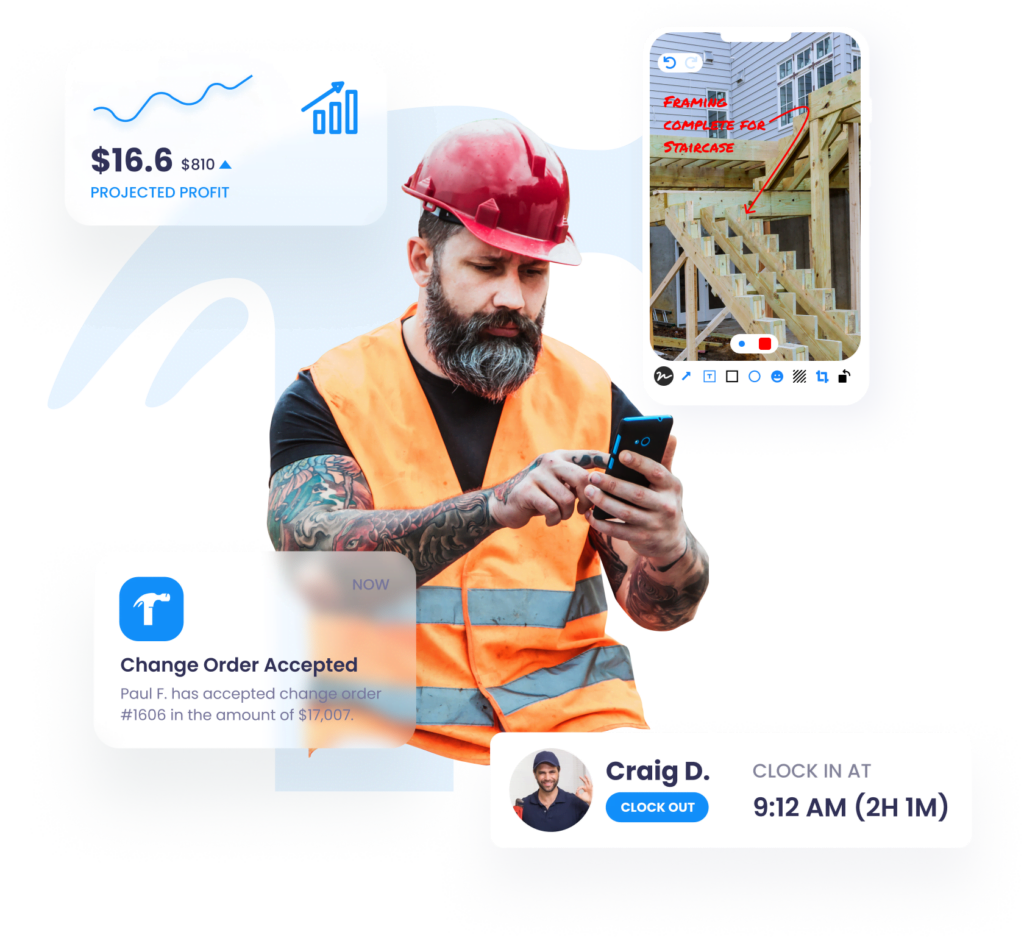 Projul's leading the pack and setting new standards
Track leads and create professional estimates to attract new customers
The success of your deck building business depends on effectively managing your lead pipeline.
Our assemblies calculator and templates make it easy to quickly create and send accurate proposals. Allowing you to focus on what you do best!
Our assemblies calculator ensures that your proposals are always accurate
Wow potential clients with branded proposals for quick approval
Schedule follow-up reminders to keep your leads hot
Keep everyone in the loop—from scheduling tasks to our new customer portal
Once your proposal has been accepted, it's time to get to work!
Projul gives you all the tools you need to organize and schedule your tasks. And your customers can stay up to date using our new portal.
Use templates and cloning to plan work fast
Building and managing your schedule is a piece of cake
Keep your clients informed at every stage with our customer portal
Invoicing with Projul is easy, and payments are just as simple
Our professional invoicing tools make it simple to create and send invoices, anytime during the project.
We also make your accountant's life easier by taking payments directly from the invoice and integrating with QuickBooks.
Get paid faster by accepting payment direct from the invoice
Integrate with QuickBooks to streamline your accounting process
Create and send invoices for different stages of the project, including deposits and final payments.
What our customers are saying
Our happy customers love how Projul helps them do more with less
Supporting your success every step of the way
Projul provides an industry leading premium support package that includes a personalized implementation and analysis of your company's workflows to best fit your company's needs. We are here to support your success!
Management Tips For Drywallers FAQs
What does efficient management mean for Deck Builders?
Efficient management for deck builders means using tools like management software, estimating software, and QuickBooks Online to streamline and organize business processes. It may involve using a sales pipeline to track leads and manage customer interactions, or using a CRM to efficiently manage customer relationships. Having access to a complete set of tools, such as invoicing and project management software, can also help improve workflows and save time.
Efficient management may also involve using an app to manage jobs and monitor progress, as well as creating and signing documents digitally. In general, efficient management means effectively managing and tracking all aspects of the deck building business, from customers and sales to projects and finances.
Why should Deck Builders use management software?
Deck builders should use management software to help with estimating software, manage their deck business, and keep track of their sales pipeline. The software is designed specifically for trades and can be used as a one-stop program for managing all aspects of a decking business. It can provide access to tools and features, such as invoices and projects, and can be integrated with other company processes, such as lead tracking and estimates.
Additionally, it can help manage customer relationships through its CRM feature, and can even help save money and efficiently manage jobs. The software can be used on a desktop or laptop, and may even offer a mobile app for on-the-go access. Management software can help streamline and simplify the work of deck builders.
Which features to look for in the best management software?
There are many features that you may want to consider when looking for the best management software for your deck-building business. Here are some potential options:
CRM (customer relationship management) to help you manage and track interactions with customers, leads, and prospects
Estimating and proposal to help you quickly and accurately generate estimates and proposals for your clients
Invoicing and billing to streamline the process of generating and sending invoices to your clients
Project management to assist in planning, tracking, and managing your projects from start to finish
Sales tools to help you generate leads, nurture prospects, and close deals
Desktop and/or cloud-based options, depending on your preferences and needs
Tools to improve and streamline your business processes, such as project scheduling, resource allocation, and task management
A mobile app to help you manage your business on the go
The ability to save and review past estimates and projects for future reference
The ability to scale as your business grows
Ultimately, the best management software for your business depends on your specific needs and goals. It's important to carefully review the features and capabilities of any software you're considering to ensure it meets your needs and helps you run your business efficiently and effectively.
What makes Projul special?
Because we've spent time in the construction industry, we've built Projul to be a comprehensive, one-stop solution for deck contractors and companies in the trade. It is an easy-to-use app that allows contractors to manage their projects, sales, leads, and invoices in one program.
It also includes powerful tools for estimating and optimizing projects, as well as a CRM (customer relationship management) system to help track and manage customer interactions. With Projul, contractors can easily manage their business from the beginning of a project to the end, all from the convenience of their laptop. In short, Projul is a special tool that helps contractors streamline and optimize their operations, making it easier for them to succeed in the competitive decking industry.