Bathroom Remodelers Management Software. Built by construction pros with honest pricing.
Organize your bathroom remodeling projects with ease, from prospect through to payment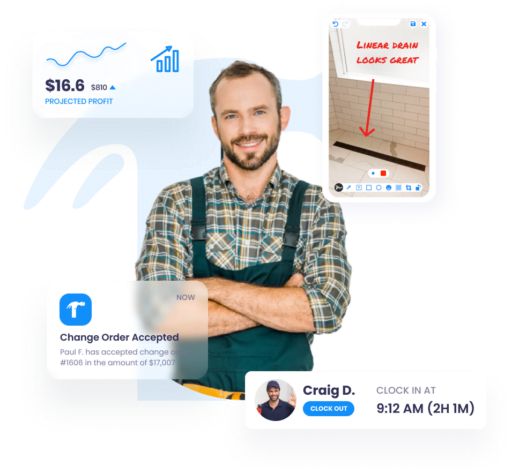 When managed well, bathroom remodeling is both rewarding and profitable. If it's not, the whole process can be painful, and your profits start to slip away.
Projul helps you stay organized, and ensures every project is as smoothly as possible. Using our lead pipeline, we even help you before your project has started!
Impress your prospects using our detailed lead pipeline management
Send estimates, and convert them into scheduled tasks when the project starts
Invoice throughout the project, including change orders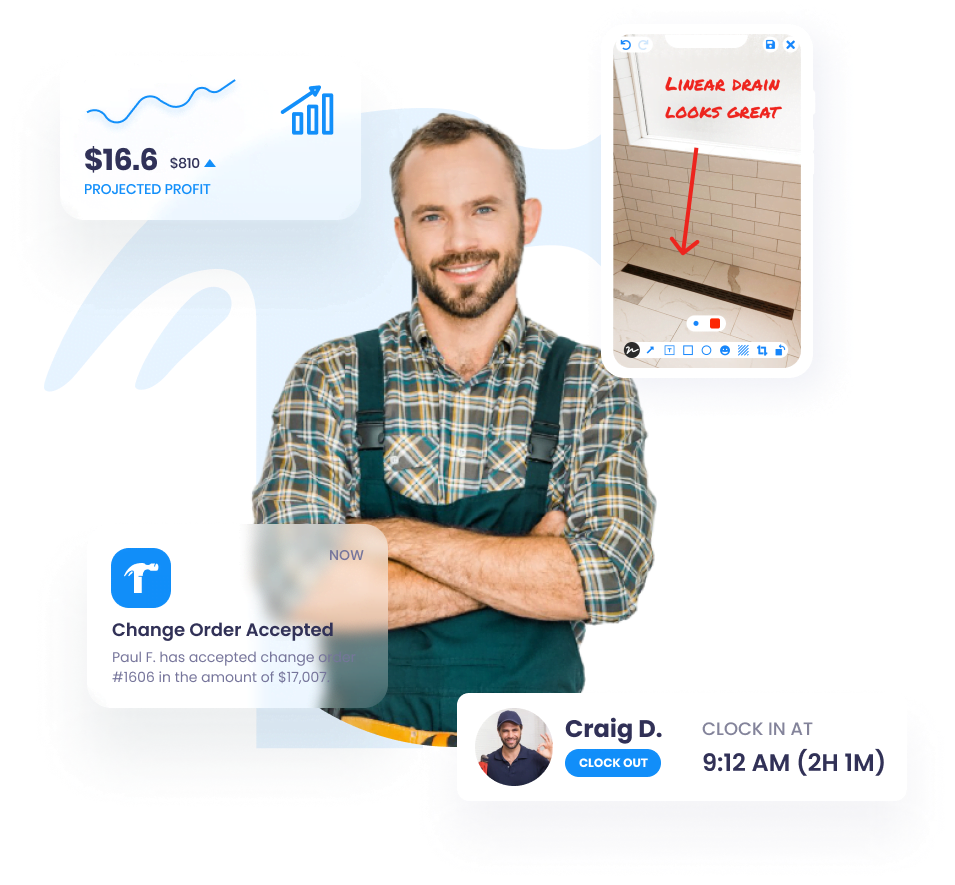 Projul's leading the pack and setting new standards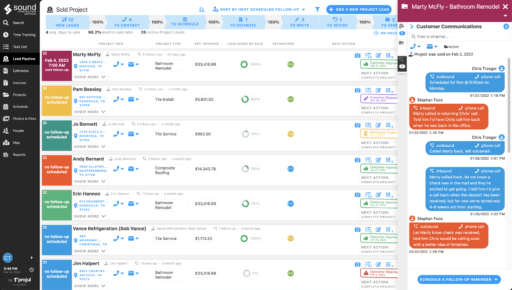 Don't let leads slip through your fingers! Organize your lead pipeline, and send estimates that ooze professionalism
We designed our lead pipeline especially for construction companies. Scheduled follow-ups keep you proactive, and it's easy to group your leads by stage.
Use professional estimate templates, and get them approved digitally, to speed things up.
Your whole project is in one place, so once the deal is done, convert estimates to tasks, and away you go.
Lead pipeline specifically built to help construction companies grow
Stay focused by putting non-urgent leads on hold
Get started straight away using our fast approval and signature process
Keep your customers happy by delivering their bathroom remodeling on time.
Our drag and drop scheduler makes it easy to create and schedule tasks across your projects. You can assign locations and workers to the tasks, and see the real-time progress.
Your workers can view their schedule on-site using the Projul mobile app. They will always know where they need to be, and what they need to do.
Use templates and our drag and drop editor to build an effective schedule
See real-time updates, so you always know how the project is going, and what your field workers are doing
Keep everyone in the know using the Projul app, available on Android and iOS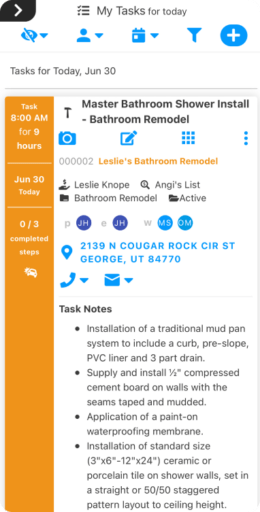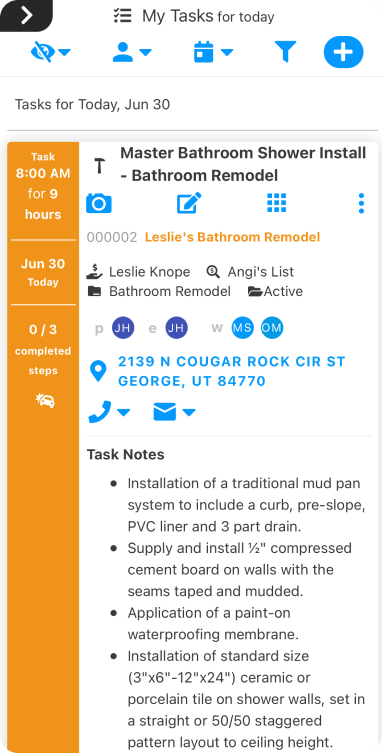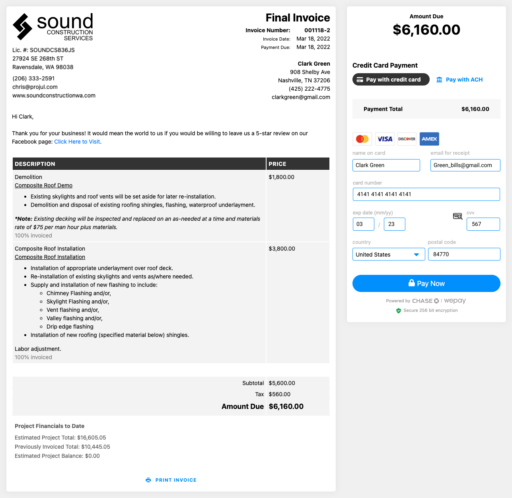 Never work for free again, by invoicing at all stages of your project
We make it simple to send different types of invoices to your clients. This includes deposit, progress, change order, and final invoices.
Projul also reduces friction from the payment process. It does this by offering secure payment processing within the app.
Keep the money flowing in with different types of invoices, including change orders
See a clear picture of your future income using the detailed revenue forecasting
Make life easier for your bookkeeper with automatic QuickBooks syncing
What our customers are saying
Our happy customers love how Projul helps them do more with less
Supporting your success every step of the way
Projul provides an industry leading premium support package that includes a personalized implementation and analysis of your company's workflows to best fit your company's needs. We are here to support your success!
Management Tips for Bathroom Remodelers FAQ
What does efficient project management mean for bathroom remodeling contractors?
For bathroom remodeling contractors, efficient means managing everything in one place. It also means avoiding friction wherever possible.
Running the project from pre-sales to final invoice means nothing gets lost. This means the whole bathroom remodeling project should run smoother.
Why should bathroom remodelers use management software?
It's important for bathroom remodelers to use project management software. This is because there are many moving parts in a project. and losing track of what's happening can harm profits.
Tracking the remodeling project end-to-end also makes it easier to identify weaknesses. Then you can improve things like the project schedule. You will also ensure accurate project billing.
The features you need will change depending on the size and structure of your business. There are a few features every bathroom remodeler project management software will offer:
Lead Management & Sales Pipeline
Estimates
Schedule management
Project management
Project billing
CRM
It can be a daunting search, but it's important to find the best software to support your business.
What makes Projul special?
We built Projul with kitchen and bath remodelers in mind. Using our hands-on experience in the industry to create the best software for you.
We understand what goes into running an efficient project. Which is why we strive to help companies achieve that every time.
Can management software help improve estimates?
A big benefit of utilizing a management or CRM software for your company is that you can provide more accurate estimates. This is because you're tracking data like projects, clients, documents and contracts.
This gives you a holistic view of your projects, which you can use to improve estimates going forward.
From how long it takes to install bathroom fixtures, to bathrooms that cost more money than estimated. You can look at all this data and adjust future estimates accordingly.
You can also enhance proposals by giving your clients access to data that backs up your estimates. For example, if they want a certain tile for their flooring, you can reference the time it took for a previous client. This shows that you have a clear idea of the tools and resources needed.
How much does it cost to try out remodelling management software?
Most remodeling management software will offer a free trial—or at least—a free demo. You can normally sign up with just a few clicks, so you can easily try it out with your next bathroom remodel.
You can manage your bath contractors, save your remodel plans, and share ideas across your business.
It's important to try the features that will help you and your team the most when working on a bathroom remodel:
What will save time?
What will improve operations?
What will help you track your sales and contractors?
How will using a CRM or management software affect our clients?
When you're working on a bathroom remodel, or delivering other services, your client is your number one priority. By using software or a CRM to manage your jobs, you and your team can be proactive to your clients' needs.
Follow up on bathroom remodel quotes
Organize tasks for all projects
Store phone numbers and other contact info
Offer a demo to highlight new features
Your clients are likely homeowners who need professional support from your business. They might worry about things like protecting their furniture and windows during the bathroom remodel. By using tools to stay on top of their projects, you can manage their concerns from the start.
Whether you're on-site or in the office, your business should be in constant contact with your clients. By tracking this in a CRM or business tool, you'll always remember to update them on progress. You can also follow up invoices, and other critical business interactions.