Software for painting companies. Renovate your job management with an all-in-one tool.
Built by construction pros with honest pricing.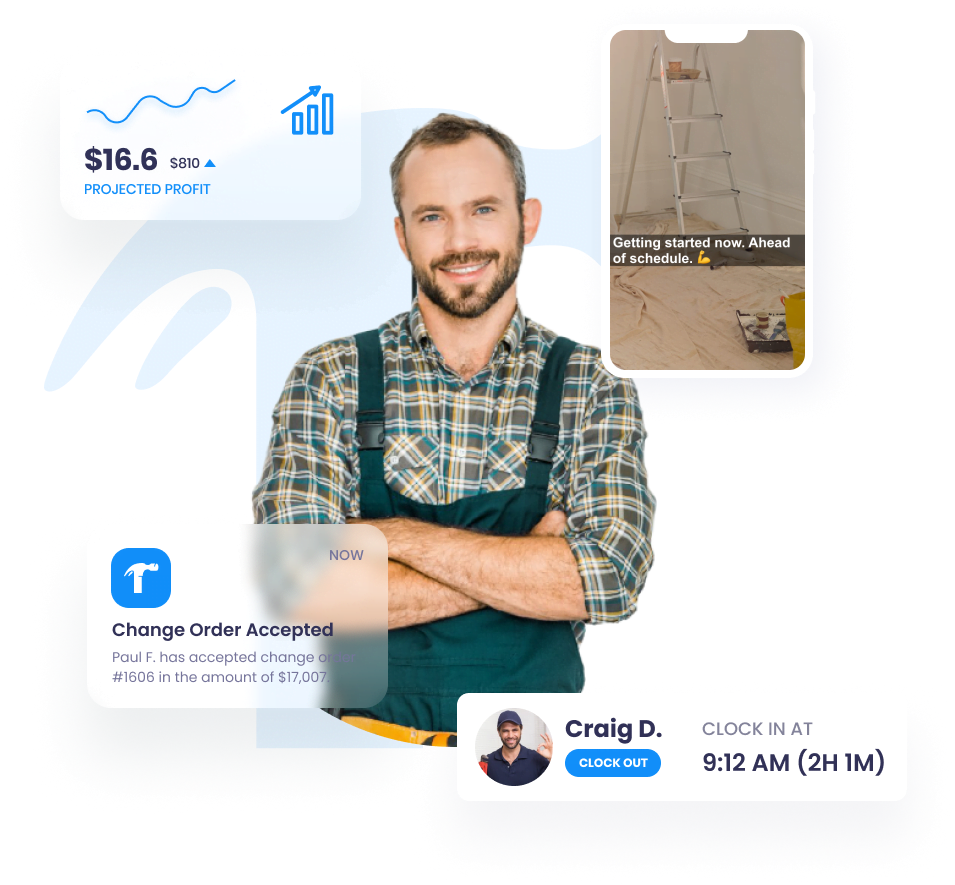 Running a painting business isn't always easy, but it can be much easier with Projul.
From estimates to invoices, and everything in between, we've used our experience in the business to create the tool we wish we had.
Impress your clients with professional estimates
Stay on track with drag and drop scheduler
It's easy to get paid with card payments direct from invoices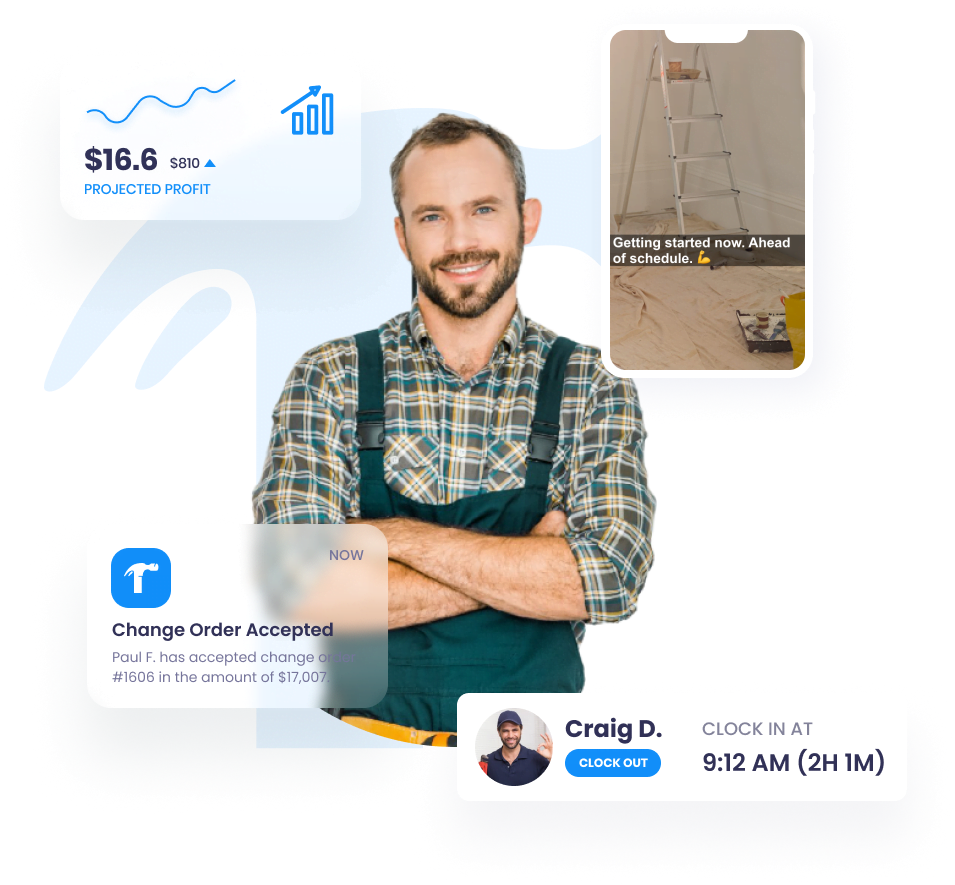 Projul's leading the pack and setting new standards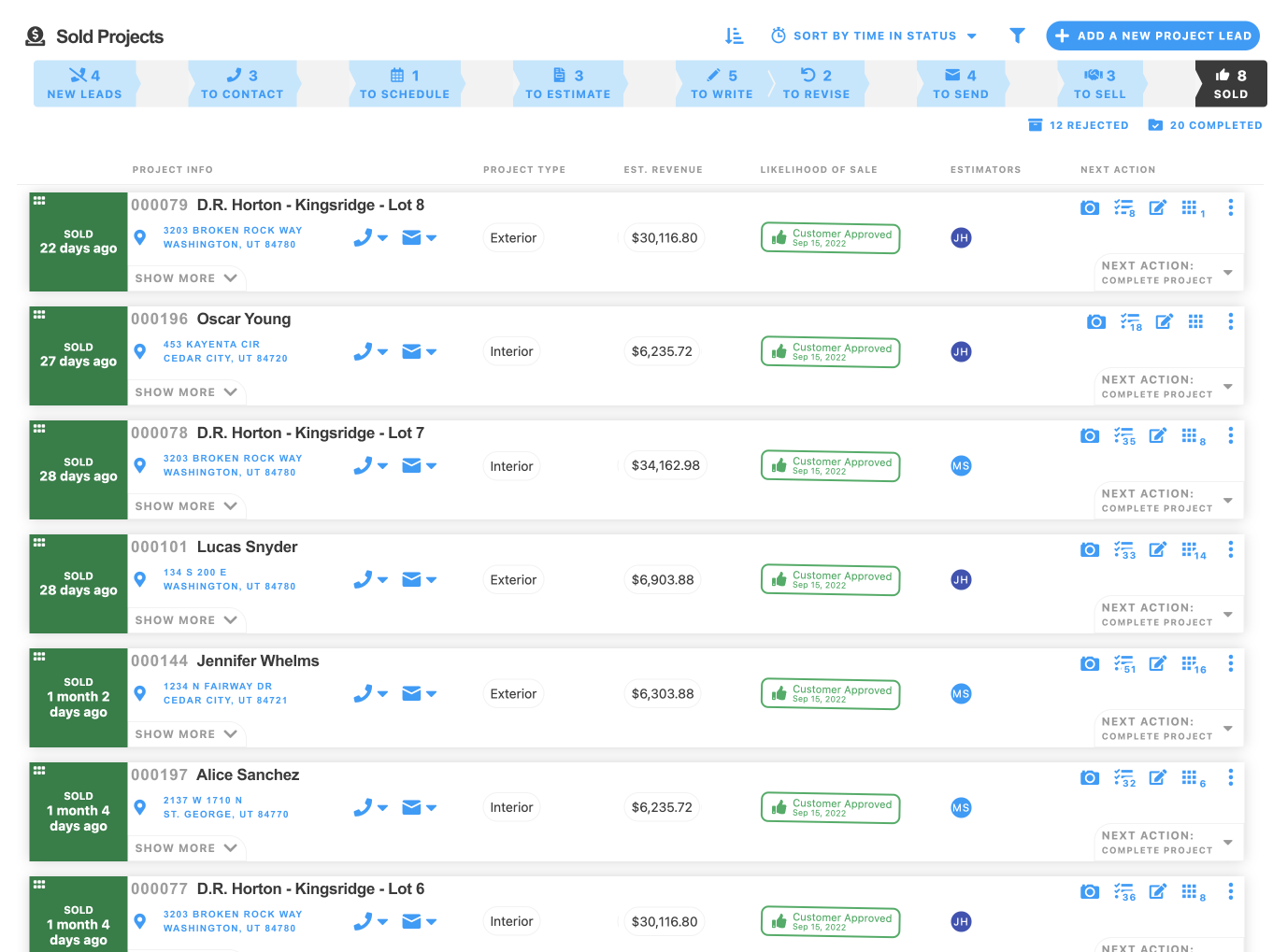 Every opportunity matters, with Projul's advanced lead pipeline and impressive estimates
Before you can impress your customers with your painting, you need to win the project. We've specially built our lead pipeline to give you the best chance.
Branded estimates and the fast approval process make it easy to impress, and close deals fast
Improve estimate accurately, with built-in assemblies calculators
Easily convert estimates to tasks, to hit the ground running
Digital signatures simplify the approval process
Do you know where everyone is, and where they're supposed to be?
Managing painting projects is often like spinning plates, but it doesn't need to be. Projul's drag and drop scheduler makes it easy to schedule what needs to be done, and who needs to do it.
When the work is underway, you can then see the realtime progress. Automatic worker notifications remind the team to log their time, so your data is always up to date.
Create and schedule tasks in seconds
Use templates and cloning for even faster scheduling
Track worker progress in realtime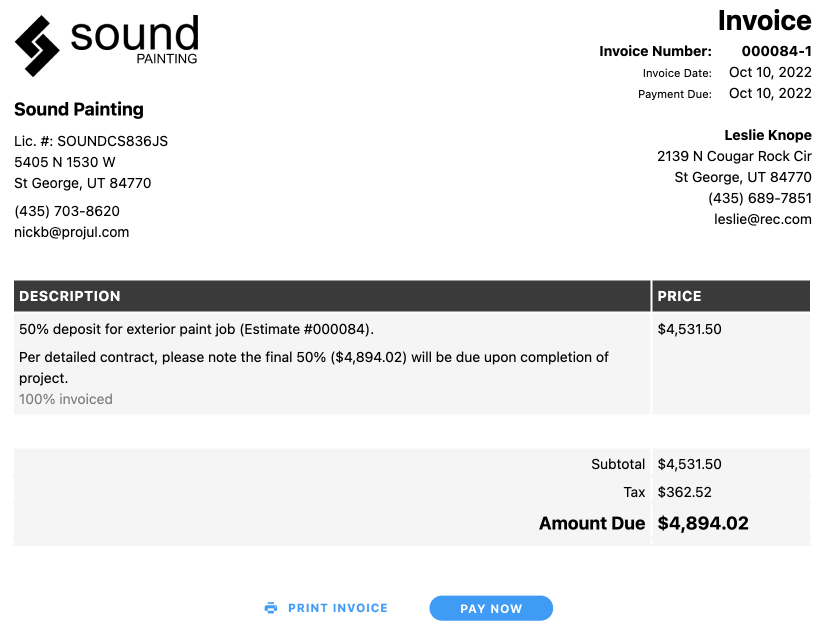 Invoice fast, get paid faster
There should be as little friction as possible when it comes to getting paid. We designed our invoicing to not only be quick and easy for you, but also for your customers.
Whether it's a deposit, a change order, or a final invoice, we've got you covered. Create and send the invoice, then the customer can pay by card straight from the document.
Multiple invoice types
Sync with QuickBooks to ensure your books are always up to date
Get a clear view of your future, with revenue forecasting
What our customers are saying
Our happy customers love how Projul helps them do more with less
Supporting your success every step of the way
Projul provides an industry leading premium support package that includes a personalized implementation and analysis of your company's workflows to best fit your company's needs. We are here to support your success!
What are the main tips for painter business management?
When you are managing a painting business, there are a few things that will make your life much easier:
Keep a record of everything. You don't know when you'll need to check back on a lead, invoice, estimate, etc. Having a secure way to store this information without it getting in the way of current work is vital.
Technology is your friend. There are many apps and tools designed to help you with your management processes. Find one that suits your business, and you could save yourself hours every day.
Share the load. It's easy to try to do everything at once, but you have employees and colleagues for a reason. Sharing tasks can give you the time to focus on what's important.
Keep in touch. When dealing with clients, it's important to always be communicating. From follow up emails to on-site conversations, you want to keep your customer in the loop.
Take advantage of smart phones. Painting contractors all carry a mobile device, which makes it easy to track progress and log time. If you use contractor software with an app, it's so much easier to stay up to date.
Why use painting business management software?
Painting business management software brings all your key information into one place. 
You can log in and see your leads, estimates, invoices, etc. This gives you a full picture of your business, and gives you the tools to plan projects, and win work.
Which features to look for in the best software for painting contractors?
The functionality you need depends on the size and structure of your painting business. There are a few key features you should expect in most tools:
Lead pipeline
Estimates
Task management and scheduling
Invoicing
Integrations
What makes Projul special?
We designed and built Projul based on our many years in the industry. We understand the issues and frustrations you encounter every day.
Running your business shouldn't be any harder than it has to be. Projul helps with that by bringing everything into one tool, and simplifying your business processes.
Our user friendly service offers your company or small business a way to track invoices and payments,
Why choose projul for your painting business?
Projul isn't just a painting contractor software, we cover the whole spectrum of management:
Track employees' time effortlessly (No more paper timesheets)
Integrate with Quickbooks Online and Quickbooks Desktop to save time.
Encourage good customer communication with fast and easy approvals
No more chasing clients, manage payments directly from invoices in a timely manner
Track completed jobs, payment reminders, while also having a view of all past jobs and past due invoices.
With our website and app, we help your painting company manage more jobs, more customers and more paint contractors.
What are the benefits of using painting estimating software?
Using painting contractor software to create, send, and monitor estimates gives you a big advantage. Not only can you protect your cash flow by improving accuracy. It also boosts customer satisfaction.
This is because estimating software makes it easy to create professional and effective estimates. They look great, and they are easy for the customer to read and approve.