Flooring contractor software. Floor your customers with professional proposals and inviting invoices.
Built by construction pros with honest pricing.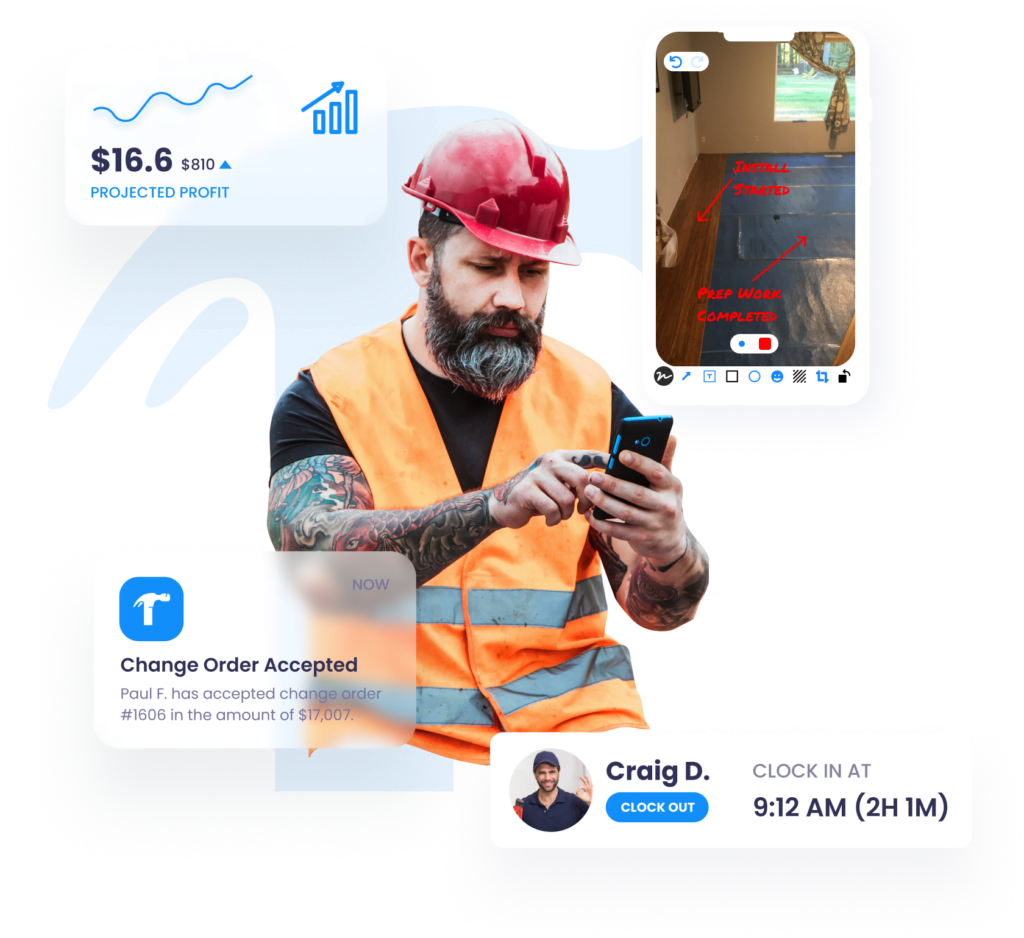 Projul is an industry-focused tool that helps flooring businesses win work, manage your schedule, and impress your clients.
This frees you up to do what you do best—install top-quality floors.
Your clients are always up-to-date with our customer portal
Track employees and subcontractors in the same place
Send reliable and accurate proposals with our assemblies calculator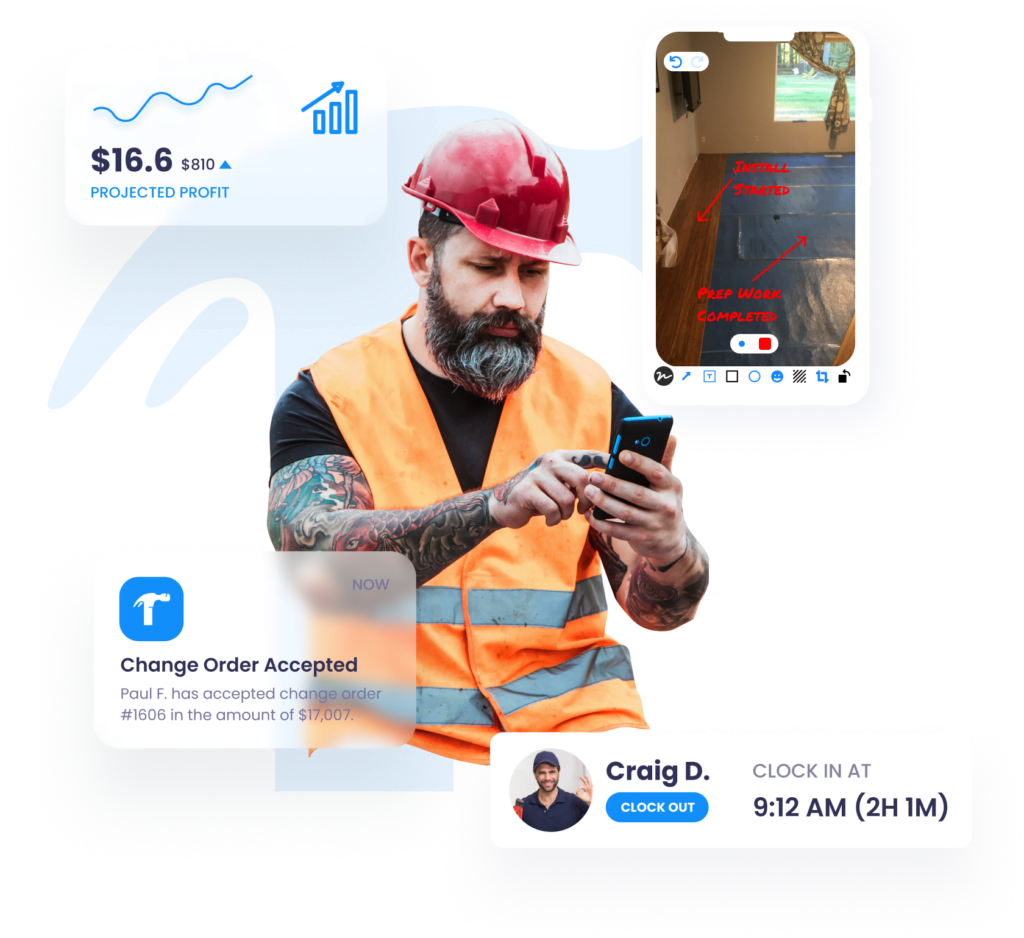 Projul's leading the pack and setting new standards
Win work with attractive proposals and accurate estimates
Your lead pipeline is the backbone of your flooring business, but you don't need to spend all your time managing it.
Projul's advanced lead pipeline gives you full control and visibility, so you'll never let a hot lead go cold again.
Ensure accuracy with our assemblies calculator
Put leads on hold so you don't forget about them
Use templates to create professional proposals quickly
It's easy for you and your customers to keep up-to-date
When you're dealing with both employees and subcontractors, you need everything in one place.
We've made it easy to assign tasks and schedule work for everyone on the project. And your customer can use the portal to stay in the know.
Detailed time tracking for everyone on the project
View daily logs and track team communications
Spend less time manually updating customers on progress by using the customer portal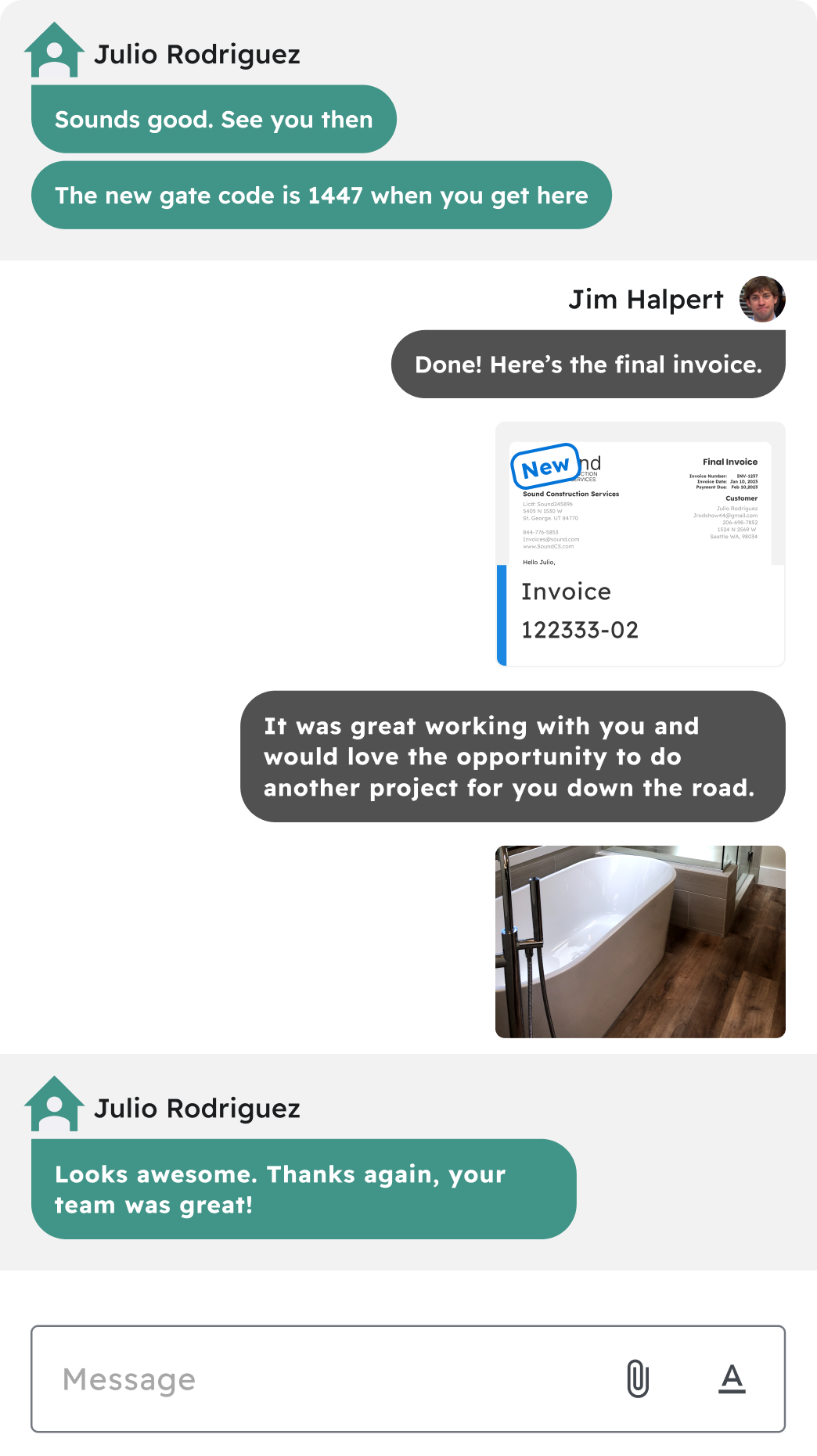 Projul makes invoicing easy, and handling payments just as simple
Laying floors is hard enough, it shouldn't take extra effort to get paid!
We've been there and done that, so we've built Projul to remove as many headaches as possible.
Take fast and secure payments direct from the invoice
Invoice at every stage of the project, from deposit to change orders
Keep your accounts up to date
What our customers are saying
Our happy customers love how Projul helps them do more with less
Supporting your success every step of the way
Projul provides an industry leading premium support package that includes a personalized implementation and analysis of your company's workflows to best fit your company's needs. We are here to support your success!
Management Tips For Drywallers FAQs
What does efficient management mean for Flooring Businesses?
Efficient management for your business within the flooring industry means effectively managing and overseeing the various aspects of the business, such as flooring estimates, jobs, customers, operations, and materials. This can be achieved through the use of proposal software and tools, as well as effective job management and service control.
Flooring management apps allow you to better manage your company by providing unique solutions to your everyday problems. By utilizing a cloud-based system, in just a few clicks, you can access features that help you with any flooring job, meaning your business can streamline your operations and increase your profit margin. Efficient management can also involve ordering materials, creating invoices, managing inventory, and accounting. By utilizing these strategies and using the unique features and capabilities of their software and systems, your flooring business can grow and succeed in the industry.
Why should Flooring Businesses use management software?
There are several reasons why flooring businesses should use management software. Firstly, it can help streamline and automate the many tasks involved in running a flooring business, such as proposals, job costing, and scheduling. This can save time and reduce the risk of errors, allowing businesses to focus on other areas of their operation. Additionally, management software can provide valuable insights into a business's performance, such as sales data and customer trends, which can help businesses make informed decisions about how to grow and improve.
Management software can also improve communication and collaboration within a business, as it allows easy access to important documents and information from anywhere, at any time. This software can help flooring businesses become more efficient and effective, ultimately leading to improved profits and growth.
Which features to look for in the best management software?
When looking for the best management apps for the flooring industry, it is important to consider features such as:
Estimating and quoting capabilities for flooring jobs
Scheduling and task management tools for organizing and tracking job details
Inventory management for keeping track of resources and supplies
Customer relationship management to manage interactions with clients and customer information
Accounting and invoicing features for managing financial aspects of the business
The ability to create and manage contracts and work with contractors
Labor tracking and management for tracking employee hours and tasks
Features for managing and growing the business, such as marketing and sales tools
The option for add-ons means you can have additional features or integrations to customize the site to the specific needs of the business.
Measure square feet on site and estimate with our assemblies calculator
What makes Projul special?
Projul is special because it offers a comprehensive system that helps businesses streamline their operations and help their business grow. From estimating and job management to invoicing and inventory management, Projul provides a wide range of software features that make it easier to manage every aspect of your business.
We've used our extensive trade experience to create a product that includes both flooring software and management software, making it a one-stop solution for all your business needs. Projul is easy to use and allows you to schedule jobs, manage supplies, and even keep track of important documents like invoices and purchase orders. Projul is a unique and powerful tool that can help any flooring company succeed and focus on the important things—your customers.