Management Software for Kitchen Remodelers. Delivering exceptional service to your customers is a piece of cake with Projul.
Built by construction pros with honest pricing.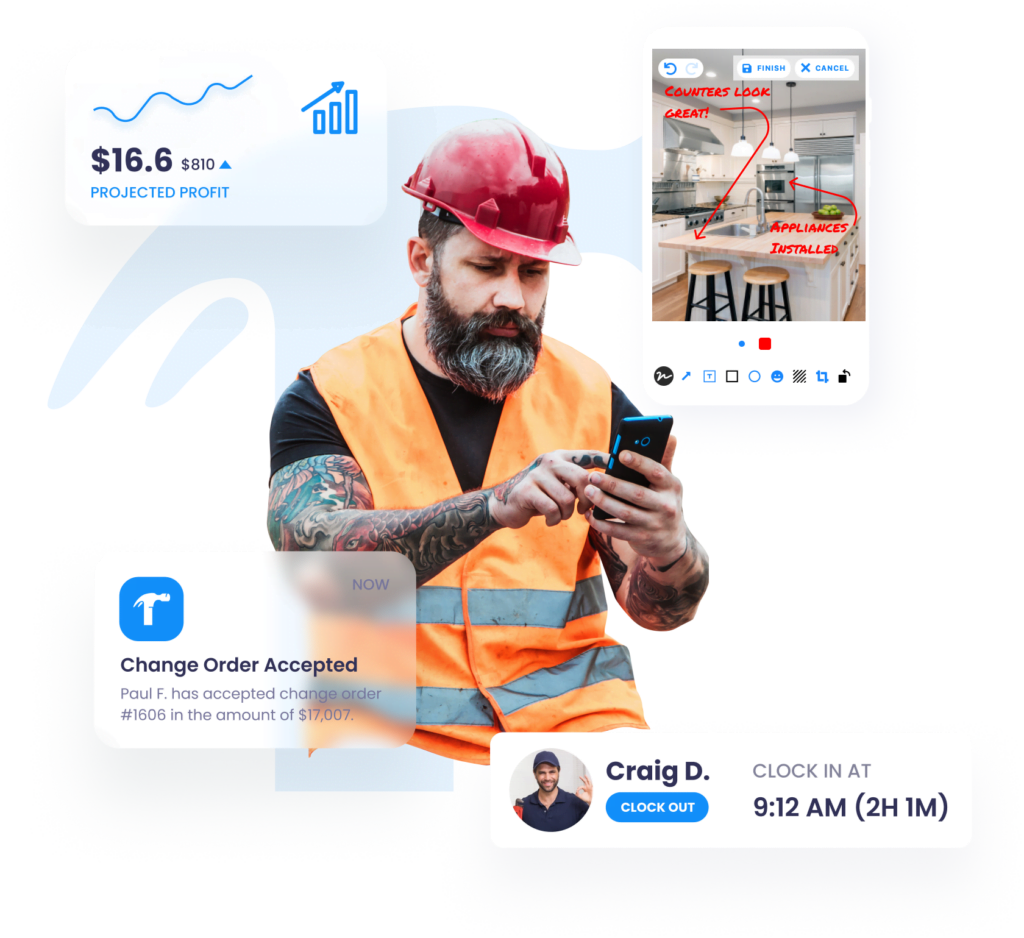 Projul makes kitchen remodeling smooth and profitable.
Our lead pipeline and organization tools help you manage every project successfully, even before it starts.
Avoid the pain of poorly managed projects, and boost your profits!
Win more work with our comprehensive lead pipeline
Keep customers up-to-date with our customer portal
Manage workers and subcontractors in the same place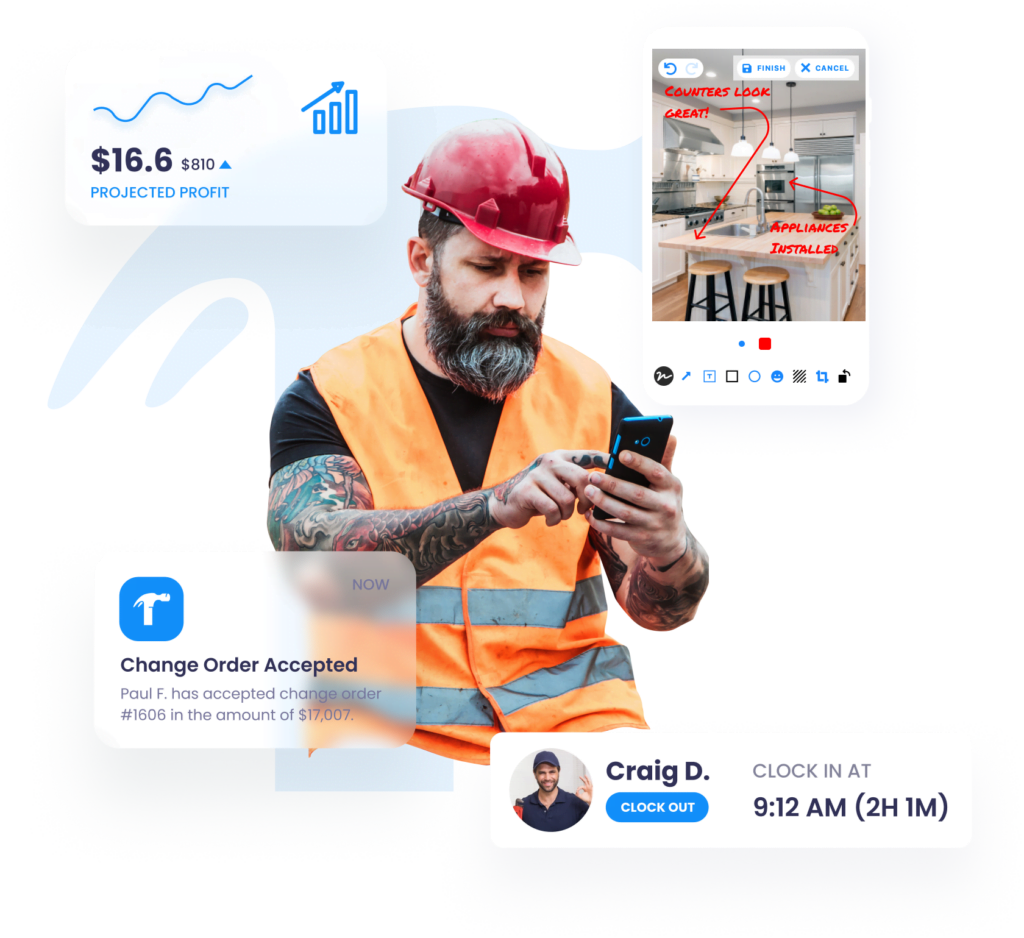 Projul's leading the pack and setting new standards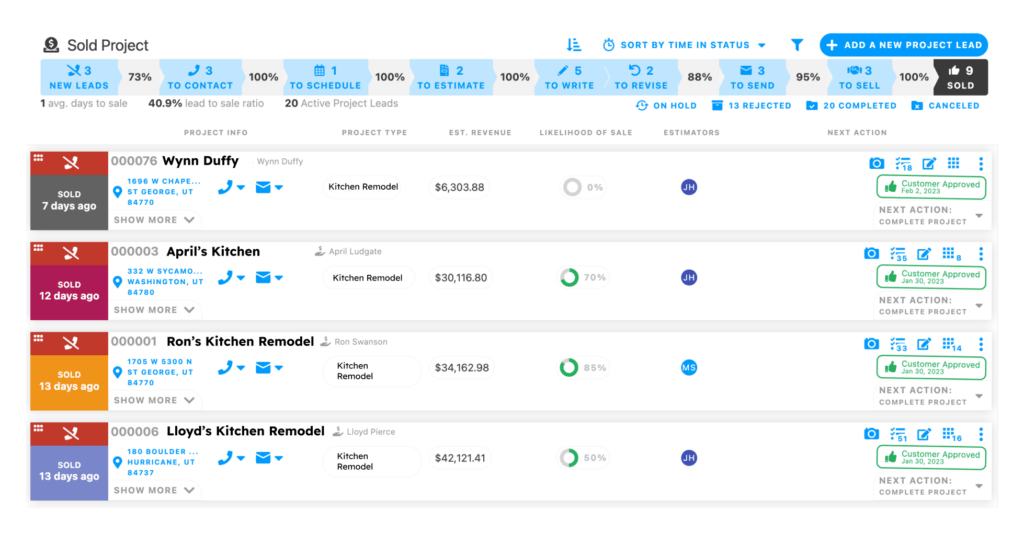 Land more business with estimate templates and follow-up reminders
Our lead pipeline is specifically tailored to the needs of construction professionals like you.
Stay proactive with scheduled follow-ups, and keep your leads organized by stage.
Our professional estimate templates and digital approval process speed up your workflow so you can close more deals.
Our lead pipeline is designed to help construction companies thrive
Get started quickly and easily with our fast approval and signature process
Keep your priorities in order by putting non-urgent leads on hold
Keep customers happy by delivering projects on schedule
Our drag and drop scheduler makes it easy to create and manage tasks for your projects. You can assign locations and workers to each task, and track their progress in real-time.
Your workers can access their schedules on the go with the Projul mobile app, and your customers can use their own portal to track the progress of their job.
Create and schedule tasks for employees and subcontractors at the same time
View real-time worker locations and progress updates
Save time when planning work by using templates and cloning
Get paid quickly and securely at every stage of the project
Projul simplifies the invoicing process so you can easily create and send clients different types of invoices. This includes deposit, progress, change order, and final invoices.
We also streamline the payment process by providing secure payment processing within the invoice. This reduces friction and makes it easier for your clients to pay you for your work.
Streamline your bookkeeping by automatically syncing to QuickBooks
Invoice for everything, from deposits to change orders
Reliably predict cashflow using our reporting tools
What our customers are saying
Our happy customers love how Projul helps them do more with less
Supporting your success every step of the way
Projul provides an industry leading premium support package that includes a personalized implementation and analysis of your company's workflows to best fit your company's needs. We are here to support your success!
Management Tips For Drywallers FAQs
What does efficient management mean for Kitchen remodelers?
Efficient management means kitchen remodelers can effectively plan, coordinate, and execute their projects and tasks. This can include scheduling workers, ordering supplies, and managing budgets.
Efficient management can help kitchen remodelers save time and money, as well as improve their productivity and profitability. It can also help them deliver high-quality work to their clients, which can lead to increased customer satisfaction and loyalty.
Why should Kitchen remodelers use management software?
Kitchen remodelers benefit from management software in many ways. Below are just a few of the benefits:
Boost efficiency
Improve organization
Better communication
Enhanced collaboration
More transparency
It can be a valuable tool for kitchen remodelers, helping them get organized, communicate better with employees and subcontractors, and run their projects more efficiently.
Which features to look for in the best management software?
Kitchen remodelers should keep an eye out for the following features when seeking effective management software:
Task management
Project scheduling
Collaboration tool
Lead pipeline
Time tracking
It's important to take time to compare features and find the tool that best suits your needs.
What makes Projul special?
Projul is a job management tool specifically designed for construction and trade businesses. We've included the following features, based on our experience in the industry:
Industry-specific lead pipeline
Proposal and invoice templates
Real-time collaboration
Mobile app
Detailed reports and analytics