Fencing software. Break down barriers between you and your clients, with Projul. 
Built by construction pros with honest pricing.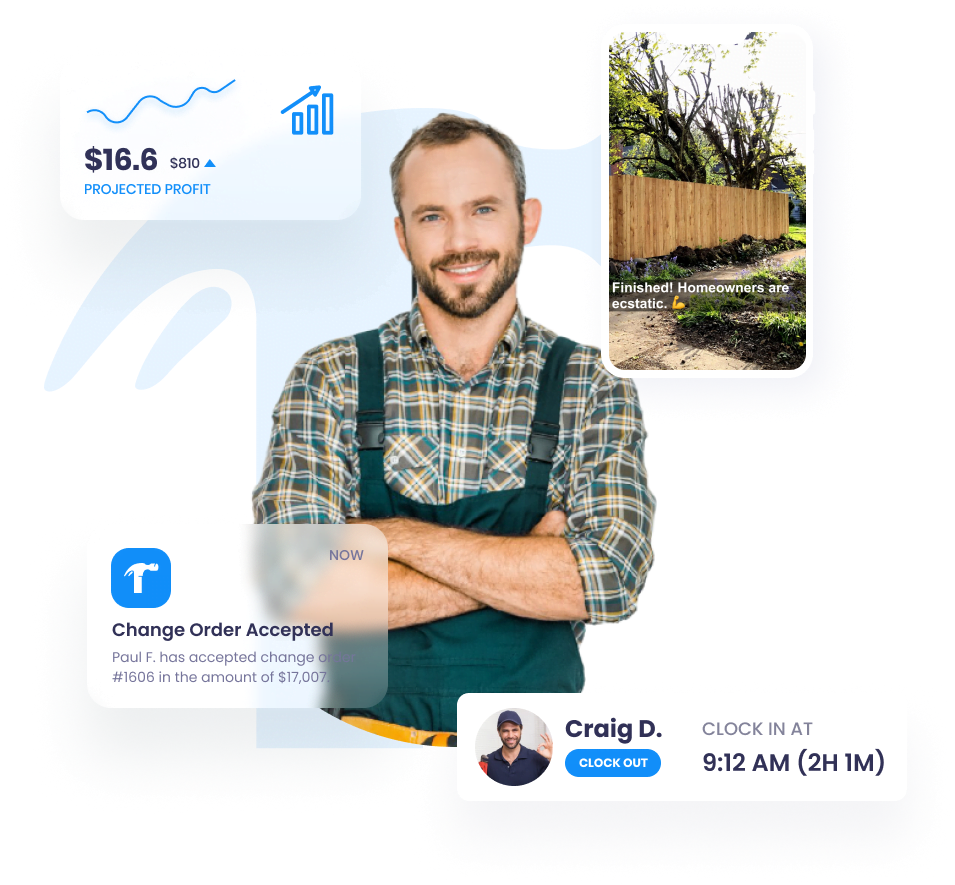 From estimates to project management, a lot goes into managing fencing projects.
With Projul, you'll keep your customers happy, while keeping the job on track and on budget.
Easily schedule your work and team
Get paid quickly with professional invoices
See all your leads in one place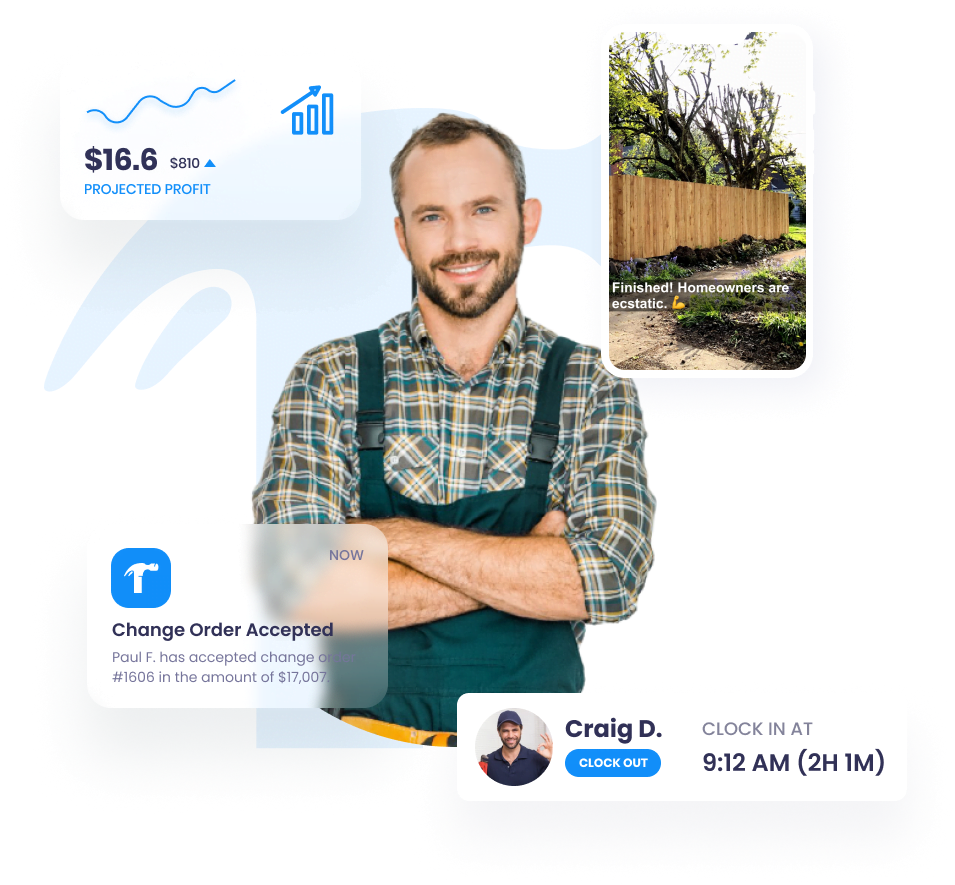 Projul's leading the pack and setting new standards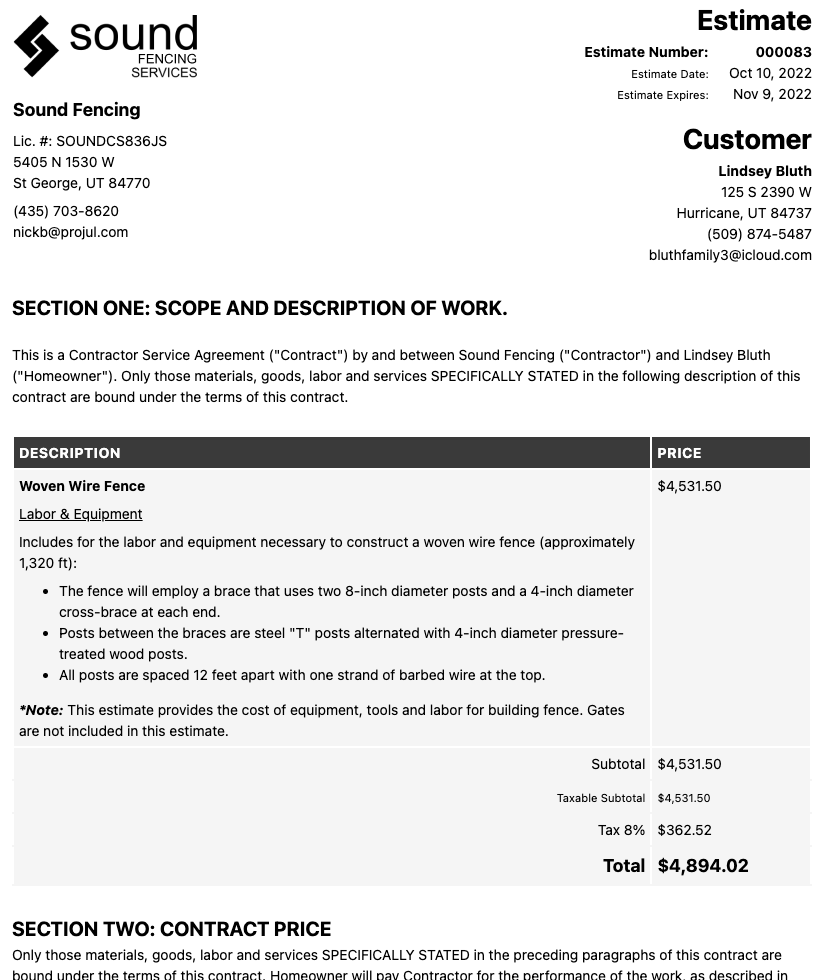 Constantly develop new business with our detailed lead pipeline and professional estimates
It's important to have full visibility of your lead pipeline, and to see which need more attention.
From follow-up notifications to professional estimate templates, you'll win more work with Projul.
Save time with our built-in assemblies calculator
Schedule follow-ups, so no leads turn cold
Send branded estimates with fast approval
Invoicing should be easy, so that's how we made it!
You can't get paid without invoicing, but it's not always a simple process. We've worked hard to give you invoicing that is easy to use, and has all the features you need.
Send different types of invoices, process payments directly from the invoice. And view detailed revenue forecasting.
Simplify your accounting by syncing invoices to QuickBooks
Accept card payments from your invoices
Send multiple kinds of invoices. From deposit all the way to final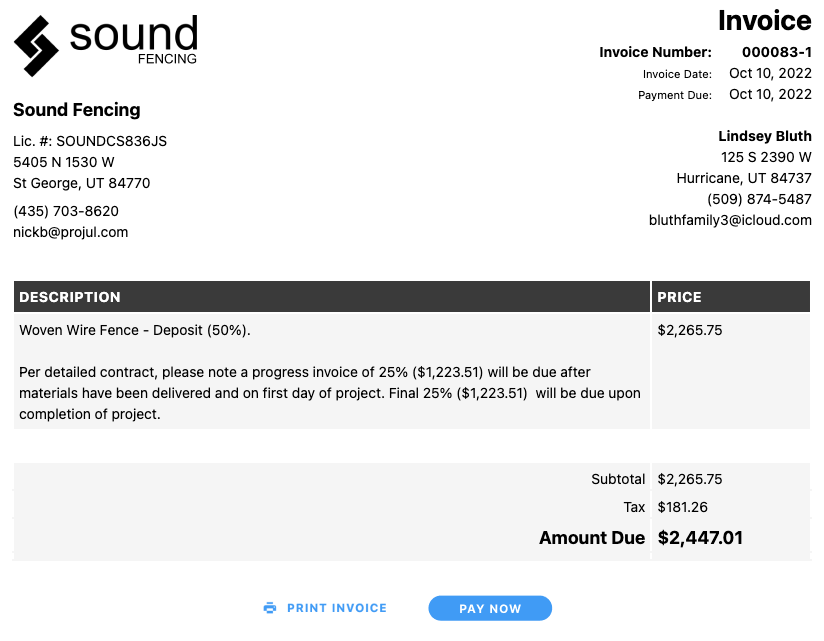 Keep your fencing projects on track with advanced project scheduling
Create tasks using templates and cloning, then schedule them with ease using our drag and drop scheduler.
You can also monitor your team when they're on site using realtime progress updates. Automatic notifications remind workers to log their time, so your data is always up to date.
See your workers progress in realtime
Build your schedule quickly and easily
Use templates and cloning for rapid task creation
What our customers are saying
Our happy customers love how Projul helps them do more with less
Supporting your success every step of the way
Projul provides an industry leading premium support package that includes a personalized implementation and analysis of your company's workflows to best fit your company's needs. We are here to support your success!
Management Software for Fencing Industry FAQs
Why use fencing business management software?
Fencing projects can vary in size, complexity, and timeline. A job management software helps you manage your business and clients' details in one place.
From winning work, through to professional invoicing, you're covered. You can also collaborate with colleagues, so the burden of the whole thing isn't on one person.
Which features to look for in the best software for fencing contractors?
The software you need depends on the size of your company, and the variety of your projects. You need to take your time comparing software to find the one that works for you and your employees or team.
These are the key features you should expect to see in most:
Lead pipeline
Professional estimates
Scheduling
Invoicing
Does Projul integrate with my accounting software?
Projul seamlessly integrates with both QuickBooks Desktop and Quickbooks Online. All your invoices and transactions will be synced automatically. This saves time, and makes it much easier for your accountants to process your books.
What makes Projul special?
Projul is built and run by industry veterans who have been there and done that. We've managed schedules, chased job invoices, and put in the hard work it takes to deliver projects.
We understand what you go through daily, which helps us solve your problem efficiently and effectively.
No other programs have been created with this experience and understanding of business needs. Not to mention a complete idea of what the customers need and expect during jobs.
Why use fencing ESTIMATE software?
Fence contractors should use estimate and project management software. It helps them manage and track their fencing jobs effectively. It also makes life easier by showing their jobs, job estimates, reports, contract details on estimates and other services in one place.
Employees can manage jobs from the job site with efficiency, and less effort. And the business can build trust with customers more effectively.
The fence industry is competitive, so it's important to have estimating, reports, and easily track fencing jobs. You want to show your customers you're running a professional fence business. With professional processes and tools.
How can software help with fence job management?
When you're managing a fence job, there is a lot to consider. You have to consider your clients' needs, as well as manage your employees working the job.
Job management software can help with this by giving you and your company the ability to send estimates, track job data, and manage office tasks.
Project management is another key part of delivering professional and successful jobs. You can split your services into tasks, estimate the individual items, and track the progress.
Whatever the fence types you're installing, your customers will appreciate a thorough approach. This complete service when delivering the job helps you stand out.